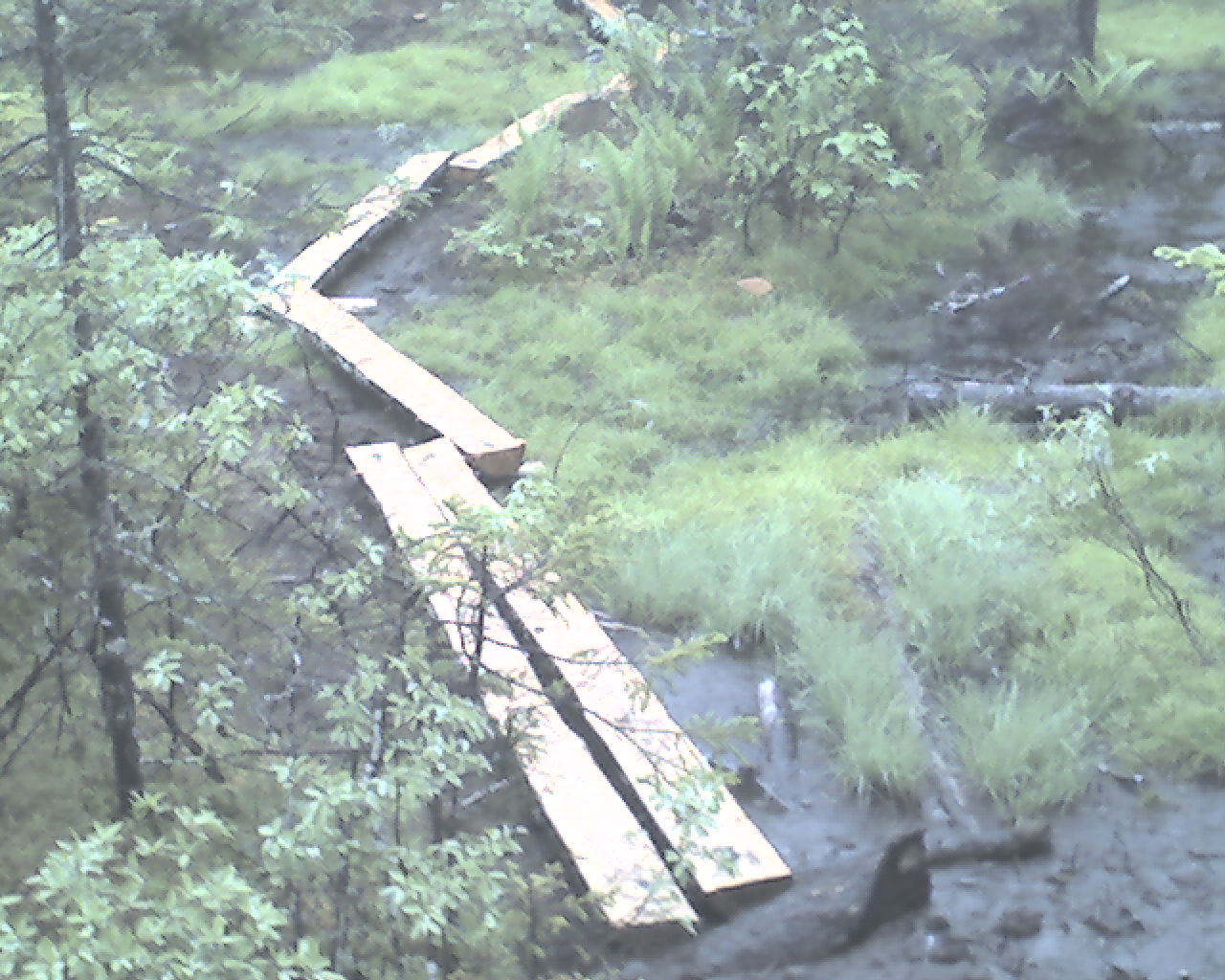 Friday, June 26, 2009


Solitude
Location For The Night: Moxie Bald Mountain Lean-to
Miles Walked Today: 17.90
Day Number: 9

Rebekah, the kind, hardworking proprietor of the Lakeshore House, allowed me to drive her car to the trail head this morning at 4:00am. Shaw's, another hostel here in Monson, is better known on the trail but, in my opinion, this place can't be beat. The food is great and Rebekah and her staff are hospitable and helpful.
 
I ate some breakfast I had bought yesterday at the trail head and started walking at 4:34am. It rained hard last night and it was still raining. Mud and slick rocks were the initial trail fare. At 4:50am I slipped and fell hard. I have a big bruise and strawberry on my lower right leg. Tonight it is sore and a little stiff but nothing is broken. I can still walk.
 
At 9:30am  I stopped at Horseshoe Canyon Lean-to to eat and take a break. Flaxseed had been there at 7:00am today. In the log he recorded, "took a dump here." I was 2 1/2 hours behind him.
 
I did not see another human being all day, nobody hiking north or south. Solitude.
 
Today was difficult hiking with a lot of mud, water, slick rocks, roots and streams to ford. I know you are probably tired of hearing this, but this is a journal.  Facts, not fiction. The trail followed swift, rapid strewn streams much of the day. Beautiful and pristine.
 
When I got to camp tonight I discovered that my tent stakes are missing. Stupid, I thought, referring to myself. I have been sleeping in shelters because of the consistent rain and soggy ground an I have no idea where I left them or how long they have been gone. Fortunately for me someone left 5 stakes here, in a nylon stake bag no less. That's the minimum number of stakes I need for my tarp/tent. I'm in good shape until I can buy some more.
 
Today's photo is a new bog bridge appropriately crossing a bog. There are numerous bog bridges up here but not near enough to handle this much rain. The bogs have multiplied.
 
This morning I started at Maine Highway 15, trail mile 114.5. Tonight I am camped at Moxie Bald Mountain Lean-to, trail mile 132.4, 17.9 miles for the day.
 
God bless you all.
---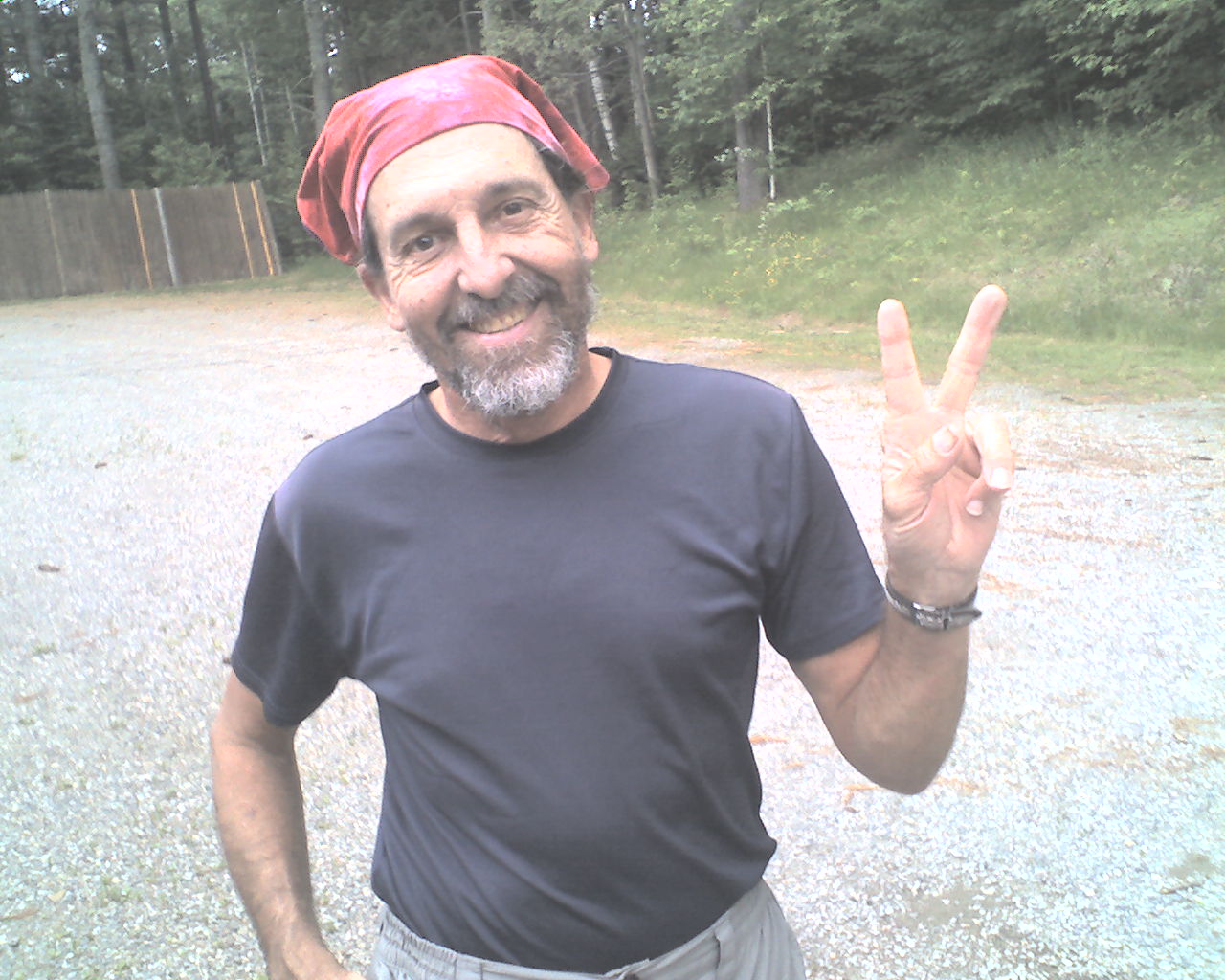 Saturday, June 27, 2009


Caught Him
Location For The Night: Northern Outdoors Lodge, Caratunk, ME
Miles Walked Today: 18.80
Day Number: 12

It rained hard all night long last night, at least 2". As I listened to it's pleasant sound on the lean-to's metal roof I felt snug and secure. But I knew what to expect this morning; more of the same.
 
I left camp at 6:00am, later than usual because I wrote yesterday's journal entry this morning before packing up.
 
At 9:00am I stopped for breakfast at Bald Mountain Brook Lean-to. Flax had recorded that he spent the last night here . I was still 2 1/2 to 3 hours behind.
 
At 10:50am I was preparing to ford Moxie Pond's south end outlet stream when I met a young couple out for the weekend. They were putting their socks and boots back on after their own stream crossing going north. I suppose they waded the knee deep crossing barefoot. The man asked, "Will we get our boots wet on the trail in the direction you've come from?" My affirmative answer was factual and courteous, but as I walked away I thought to myself, "Sir, if you only knew. If you only knew."
 
At 1:50pm I met another mother/daughter hiking duo  descending Pleasant Pond Mountain. They were from Maine. Weekend hikers. Right behind them was a young NOBO through hiker. I asked how he was doing. He said, "I'll be glad to get this trip over with. Just seven more days on auto pilot." A good discription too. That is just what they look like. Blank, focused, on-auto-pilot looks of determination and resolve. After 4 to 5 months they have almost reached their goal.
 
At 3:45pm I had an epiphany. I called ahead to the Northern Outdoors Lodge and reserved a room for the night. The trail improved (finally) and I started moving (finally). Thoughts of a shower, town food and bed will make one move.
 
At 5:30pm I caught the coniving rascal. Flaxseed was standing in the middle of the trail, pack off, oiling up with bug dope, slapping and complaining about the bugs. I said, as matter of factly as if we had been together since Katahdin, "Come on. Let's go. I've got us a room." We took off and caught up on things as we hiked. We got to US Highway 201 at 6:10pm, stuck out our thumbs, and the first car by stopped for us. She drove us two miles to the Lodge where we are tonight. We have now had showers and town food.  Bed is next.
 
By the way, Flax said he was attacked by a viscious female Cooper Hawk today. (A gentleman at the lodge knew the name of this bird.) Protecting her nest she swooped down on him several times. In Flax's  words, "She almost killed me Ringmaster. She was screeching in my ears. It was unbearable." The screeching was so loud he worries his hearing may have been damaged. Serves him right for sandbagging me.
 
Today I started at Moxie Bald Lean-to, trail mile 132.4 and ended at Highway 201, Caratunk, ME, trail mile 151.2, a total of 18.8 miles for the day.
 
Can you guess who is featured in today's photo?
 
God bless all of you.
---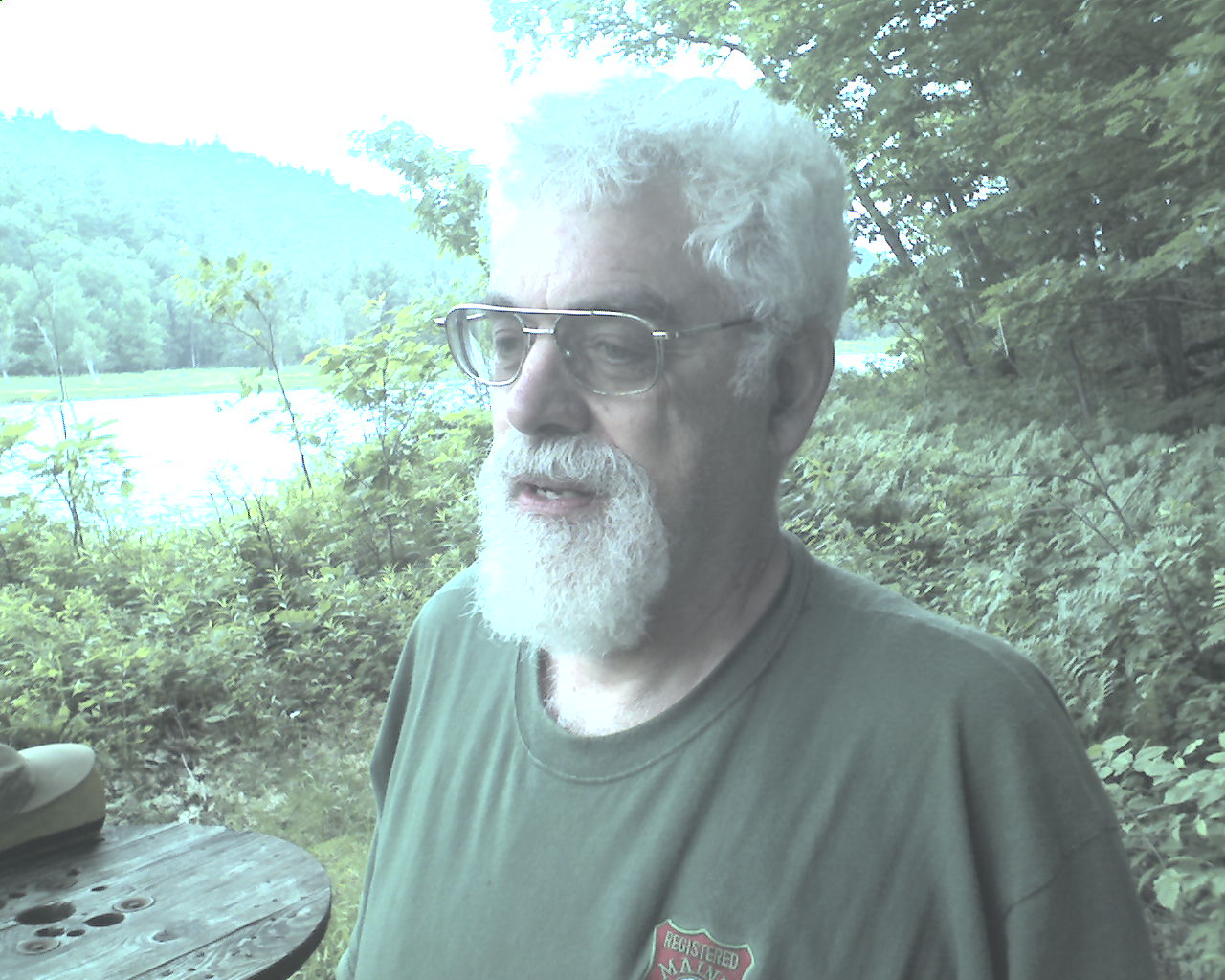 Sunday, June 28, 2009


Kennebec Ferry
Location For The Night: West Carry Pond Lean-to
Miles Walked Today: 14.00
Day Number: 10

At 6:30am Flax and I were first in the Northern Outdoors Lodge breakfast buffet line. No other guests were there, only the hired help . The live rock band that played here last night may have caused them to sleep in.
 
At 8:30am Joe, facilities manager at the lodge, gave us a free shuttle back to the trail head. There was no reason to leave earlier because the required canoe ferry across the Kennebec River only runs from 9:00am until 11:00am daily. The canoe ferry is required because the Kennebec is too dangerous to ford, even at low levels. This is because there is a dam upstream that may release water at any time causing a two to four foot rise in the river level within minutes, faster than one could wade across. But, this was a moot point today. With all the rain the Kennebec was running high above its normal level.
 
Craig (today's photo), a Maine registered guide, was our ferryman. I sat and paddled in the bow, Flax was in the middle and Craig was in the stern. The current was quite swift, but we successfully executed an upstream ferry crossing.
 
Then it started raining again and rained all day long. I do not know how many ways I can say it, but I will try one more. The trail is a loblolly. In many places it could be appropriately named the Appalachian Eroded Ditch.
 
Today we started late at U.S. Highway 201, trail mile 151.2 and are camped tonight in the West Carry Pond Lean-to, trail mile 165.2, 14 muddy miles for the day. At 7:40pm, as I complete this entry, it is still raining hard.
 
There has been no broadband signal for three days. Sorry about the delay in posting.
 
Many Godly blessings to all.
---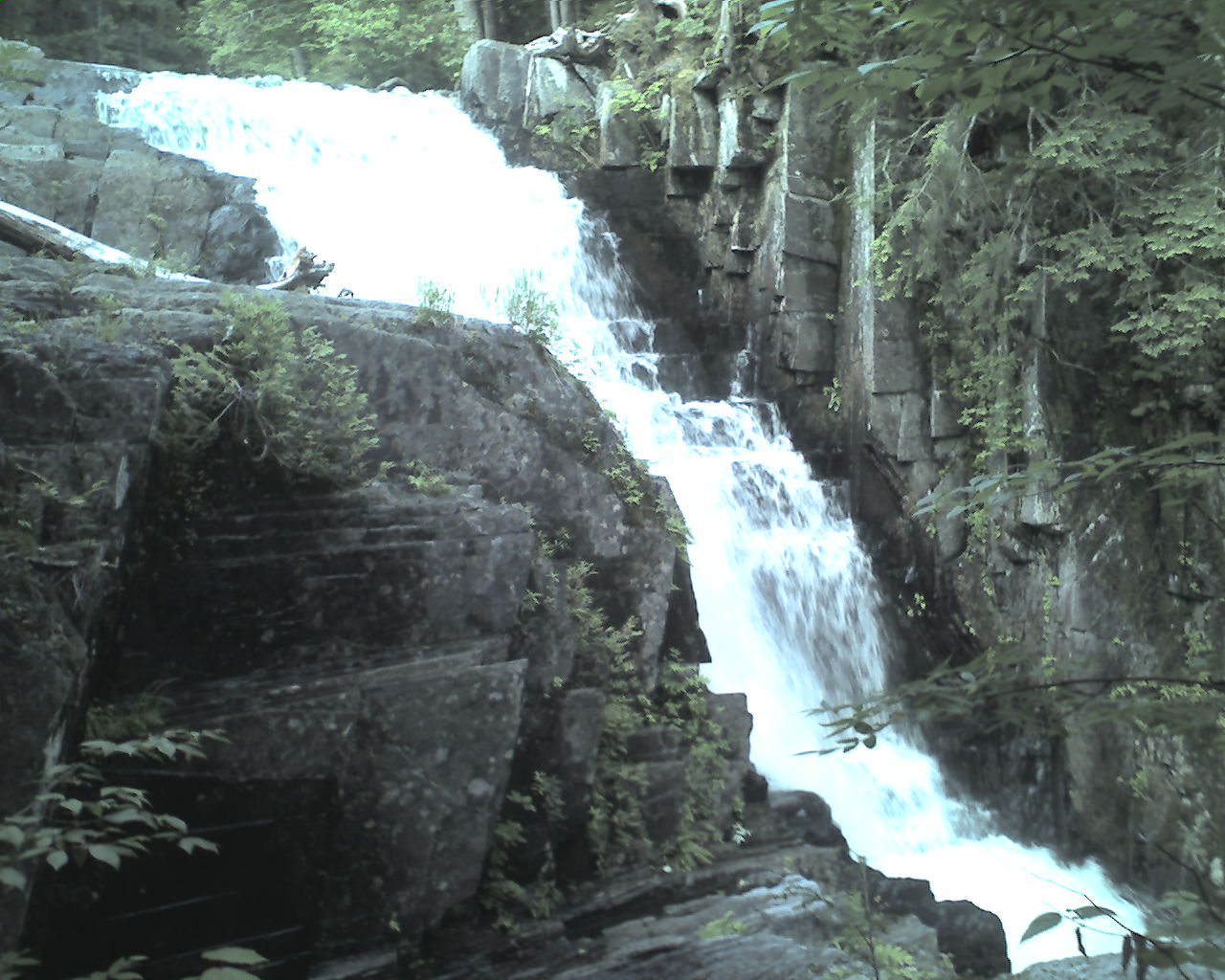 Monday, June 29, 2009


Cold Wind
Location For The Night: Horn Pond Lean-to
Miles Walked Today: 17.50
Day Number: 11

Here we go again. It rained all night and all day. Never stopped. Regardless, Flax and I packed up and started walking at 6:00am.
 
The water on the trail was deeper than ever. At 9:00am we encountered an obstacle I had been expecting. Bog bridges that were either non-existent or floating. In the former case the bog bridge had migrated to a new location. We waded the chest deep water. In the latter case, I steadied the fully floating bridge as Flax crossed like a man at a log rolling. Then, I mounted it on my belly, perpendicular to the logs, and scooted myself across with my hands, one scoot at a time, keeping my weight centered over the logs so they wouldn't flip. I wish I had a picture.
 
At 11:30am we reached the crest of Little Bigelow Mountain. We spent a few minutes trying to get a broadband signal to no avail. It was cold, wet and windy. Flaxseed said, "Ringmaster I've got to get going before I lock up." He took off. This is not unusual. Many times during the day we hike separately. At 1:30pm I overtook Souline and Yahtzee also headed south. I asked if them if Flaxseed had passed them. They said no. I suspected he may have stopped at an off-trail tent site about 5 miles behind the Lean-to I am in tonight. I arrived here at 5:30pm. I guessed he wanted to pitch his tent, get in his sleeping bag and warm up. Hopefully, I thought, we will hook up again tomorrow in Stratton, Maine, where I receive a drop box. Then, at 9:00pm he showed up. I still don't know how I passed him. This site has two lean-tos and he's in the one next to me. I'll find out what the rascal was doing for 3 1/2 hours and let you know tomorrow .
 
The last 5 miles of today's walk included climbs of more peaks in the Bigelow Range; Bigelow Mtn., Avery Peak (4,090'), Bigelow Mtn. West Peak (4,145'), and South Horn (3,805'). This type of exercise is good for one's circulation; keeps the heart pumping and the blood flowing. The satisfaction I experience when I reach the top of each peak is worth the hard work to get there. It's good for the soul. And, the views are marvelous unless it's cloudy, windy and raining as it was today.
 
Today's photo is one of the many waterfalls we see up here. It was taken several days ago. It's difficult to take pictures in the rain.
 
Today I walked from West Carry Pond Lean-to, mile 165.2 to Horn Pond Lean-to, mile 182.7, a total of 17.5 miles for the day. Soulive and Yahtzee are here with me tonight.
 
Blessings to all.
---
Tuesday, June 30, 2009


Flax's Story
Location For The Night: Stratton Motel, Stratton,Maine
Miles Walked Today: 5.10
Day Number: 13

Last night's report on Flaxseed ended with his hiking into camp at 9:00pm, tired and bedraggeled. Here is what happened. When he told me on top of Little Bigelow Mountain that he was "going to take off because he was locking up" he took off backwards, going north. I was busy closing up my pack in the rain and didn't look up so I didn't know he had he had bactracked. He didn't discover his mistake until he got to the bottom of the mountain, about a mile and a half of trail and 1,800' of vertical. Then what? He had to turn around and go back up. All this added 3 miles and another 1,800' climb to his day's hike. Overall he hiked approximately 20.5 miles on tough, wet terrain yesterday. He is a real hiker. He does not quit. I will tell you that I was very glad to see him last night. He is a wonderful and steadfast friend and I was worried about him.
 
A Maine Appalachian Trail Club volunteer supervisor spent the night with us in the lean-to. He said that the  AT's Carrabassett River bridge had been washed out about 10 trail miles south of Stratton. He said the water was swift and at least chest deep. For safety he advised us to by-pass this section of trail.
 
We left camp at 7:45am today looking forward to the short 5 mile walk to Stratton, Maine. We called ahead to make resevations at the Stratton Motel and when we got to Maine Highway 27 Sue, the owner, picked us up at the trail head for the 5 mile shuttle into Stratton. Knucklehead, Sue's poodle, rode with us. (See Knucklehead in today's photo.)
 
At the motel there were more reports about the high water and the missing bridge on the Carrabassett. We made a decision. Tomorrow, to protect life and limb, Sue will shuttle us about 10 trail miles south. We will miss a section of trail. But it is for a valid reason.
 
We had two excellent meals at the Stratton Diner, cleaned up, did our laundry, took a trip Rangeley, Maine, to an outfitter, bought food and now we are ready for bed.
 
And guess what. It has not rained today, though rain is predicted for the next 10 days.
 
Today we walked from Horns Pond Lean-to, trail mile 182.7 to Stratton,Maine, trail mile 187.8, a total of 5.1 miles for the day.
 
God bless all of you.
---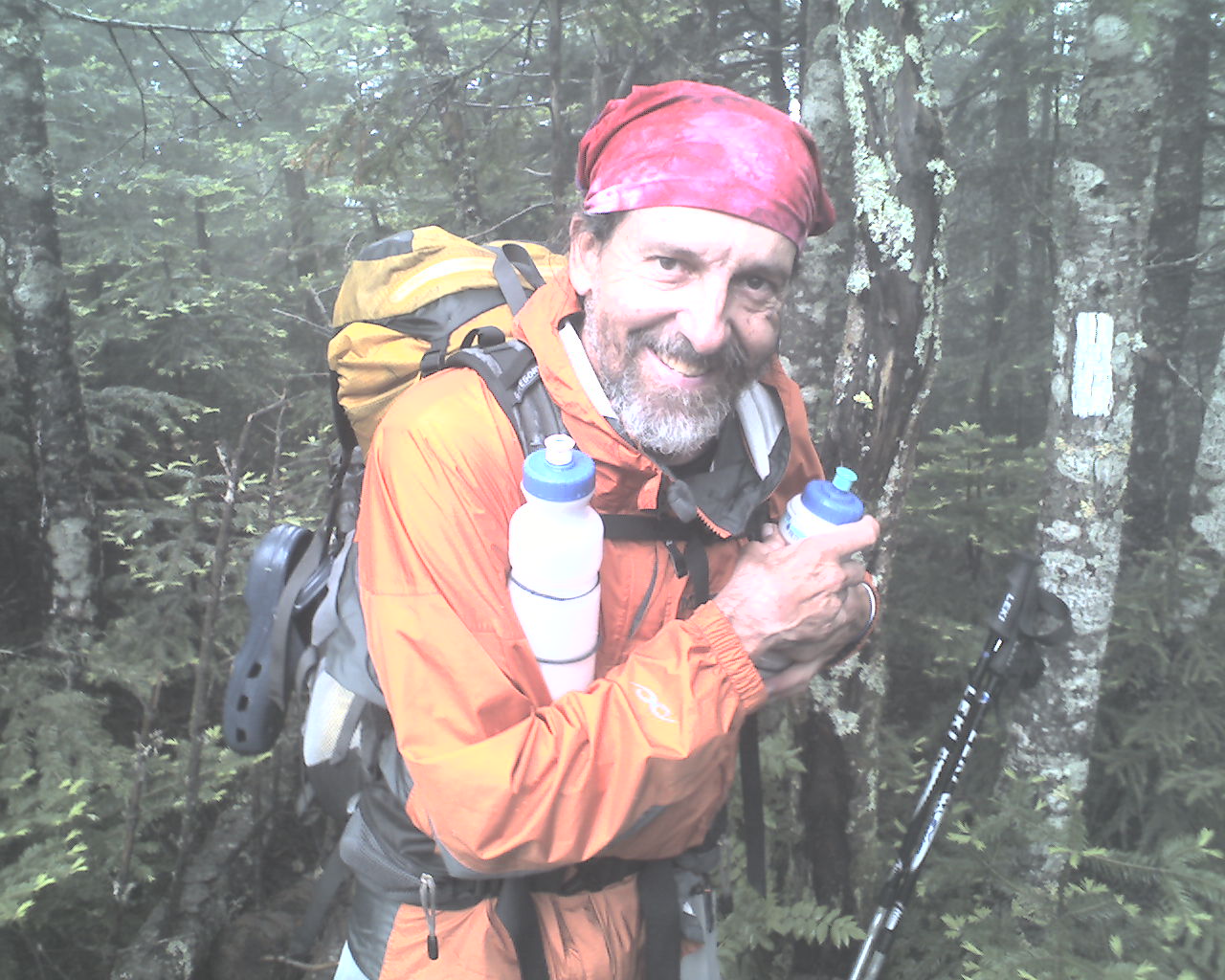 Wednesday, July 1, 2009


Detour
Location For The Night: Poplar Ridge Lean-to
Miles Walked Today: 21.50
Day Number: 14

Flax and I shared a room in the hostel at the Stratton Motel's Hiker Hostel. We had a good night's rest.

It is raining again today. The has to be some kind of a record for rainfall in Maine for this time of the year.

At 6:00am as we were eating breakfast at the Stratton Diner, Blaine and Bonnie Holding came in for breakfast also. Bonnie is a registered Maine fly fishing guide, and Blaine is a Maine state game warden. Both confirmed the dangerous flooded condition of the Carrabassett River's AT crossing and warned us not to try to wade it. This confirmed yesterday's reports and we decided to by-pass this section of trail.

At 7:00am Sue drove us to the base of Sugarloaf Mountain at Sugarloaf Ski Resort. We hiked about 2 1/2 miles up a ski run (it felt like a black diamond) to the top of Sugarloaf Mountain. There we found a blue blaze trail that took us back to the AT south of the Carrabassett crossing. We detoured around 10.4 trail miles but hiked about 3 1/2 off-trail miles to do so.

At 2:23pm we met Lexie, a ridgerunner. The Maine Appalachian Trail Club provides ridgerunners in some sections of the trail to check on hikers and perform some trail maintenance. Lexie, a tiny young lady, was carrying a heavy pack with a bow saw and prunners attached to it.


At about 3:30pm we were following a stream that had been out of its banks just two days ago. It looked like a bulldozer had been working there. Rocks, and logs had been shoved around by the raging waters to form a whole new landscape. Hikers going through this area were stranded for several days until the flood waters subsided.

At 4:30 we met NOBO hiker, Black Gum. He immediately identified Flaxseed's pack as being the same as his and showed Flax how the shoulder straps had ripped and been repaired. This was none too encouraging for Flax.

Today's photo is Flaxseed in his new rain jacket. He needs it. It has rained every day for the past 14 days.

Now, folllow this carefully. We actually started walking on the AT today at trail mile 198.4 and we are camped tonight in our tents near Poplar Ridge Lean-to, trail mile 209.3, for a total of 10.9 trail miles today. But, we walked about 3 1/2 off trail miles also. To make the math work my son Glen who manages this website will need to start us today at Stratton, Maine, trail mile 187.8 and end us at Poplar Ridge Lean-to, trail mile 209.3, a total of 21.5 miles for the day.

Many of God's rich blessings to all.
---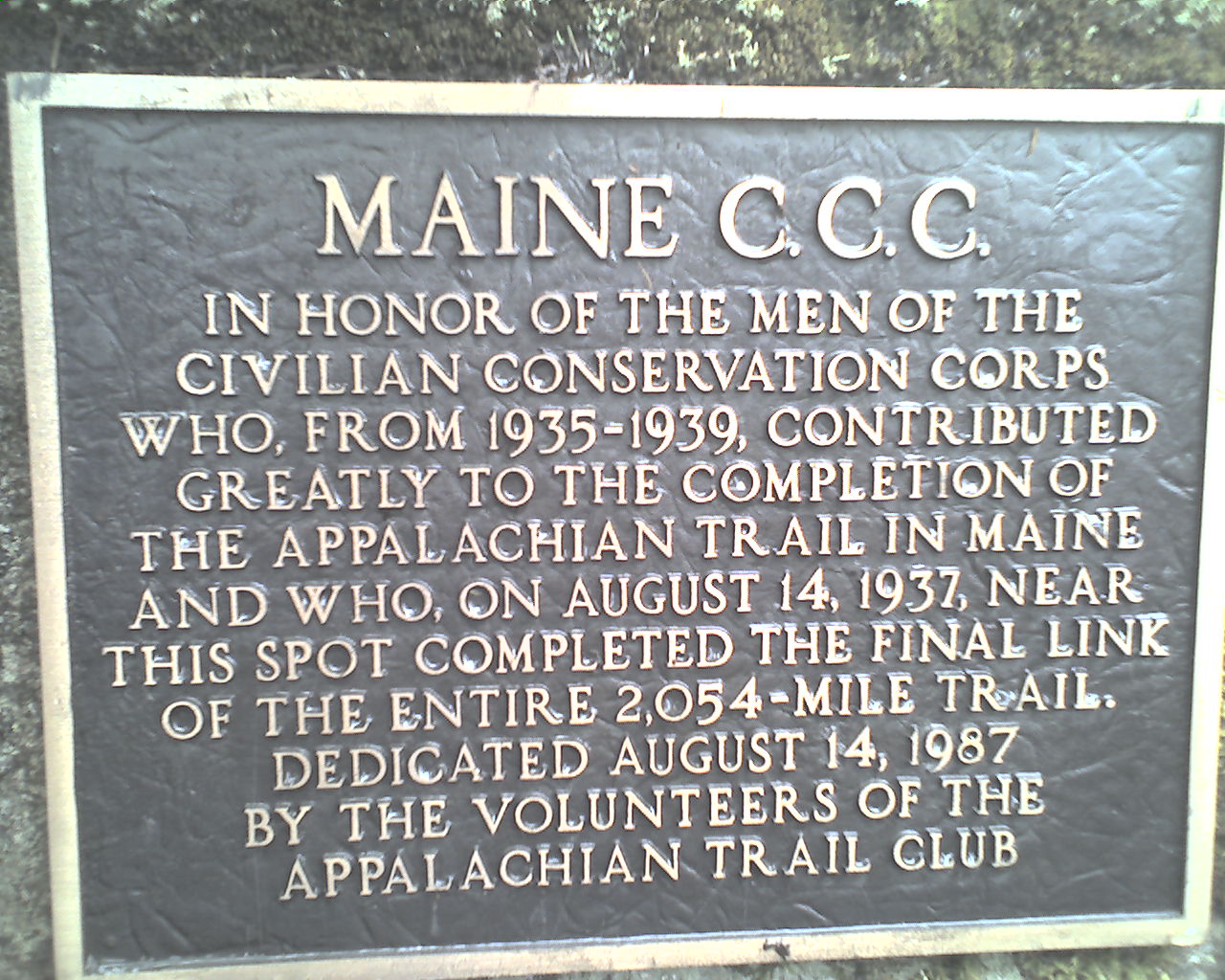 Thursday, July 2, 2009


Vacation
Location For The Night: Rangeley Inn, Rangeley, Maine
Miles Walked Today: 10.70
Day Number: 15

To back up a bit, yesterday at 6:00pm Flaxseed and I arrived at the six-person capacity Poplar Ridge Lean-to. Two hikers were already settled in for the night and we had passed a father and his two young sons that were counting on shelter space. It was still raining. Flax, always thinking of others, said we would tent. It was my first night in my tarp/tent since I started walking.

We pitched our tents in a dripping cloud and the dripping continued all night long. My tarp/tent did not leak, but, like most small backpacking tents, water in the air condensed on its inside surface and I spent much of the night wiping down my tent walls. But, my extra clothes, sleeping bag and my PDA stayed dry. This morning at 5:00am we packed our gear and were walking at 5:30am - in the rain.

We had three good climbs in the cold rain and 40 MPH plus winds: Saddleback Junior (3,655'), The Horn (4,040'), and Saddleback Mountain (4,120'). Descending Saddleback Mountain, we passed a several NOBO hikers that had come from Rangeley, Maine today. We had planned on camping for two more nights before heading to town, but as wet and cold as we were and as wet as our gear was, town sounded good. It was an easy decision. Flax said, "Ringmaster, we're on vacation. Let's go to town." I agreed and added, "How about a zero tomorrow?" Flax replied, "I won't argue with that." Our spirits rose. We were like two kids going to a candy shop. We were on our way to town and we were not going to be walking in slop tomorrow.

At 1:30pm we reached Maine Highway 4. Within minutes we had a ride 9 miles west to Rangeley. A group of French Canadian teenage boys from Montreal were being let off at the trail head for a one night backpacking trip. Their van driver agreed to give us a ride. On the way to town I booked a room at the historic Rangeley Inn, an old resort hotel right in the middle of town (an important concern when you are on foot).

Now, at 10:30pm, we have done our chores, eaten two big town meals, taken naps, and are ready for bed. Flax is already asleep. It is still raining.

Today's photo is a bronze plaque located near Sugarloaf Mountain commemorating the completion of the AT in Maine.

Today we began our trek at Poplar Ridge Lean-to, trail mile 209.3, and ended the day at Maine Highway 4, Rangeley, Maine, trail mile 220.0, a total of 10.7 miles for the day.

Thanks to all of you that have emailed encouragement. It means a lot. God bless you all.
---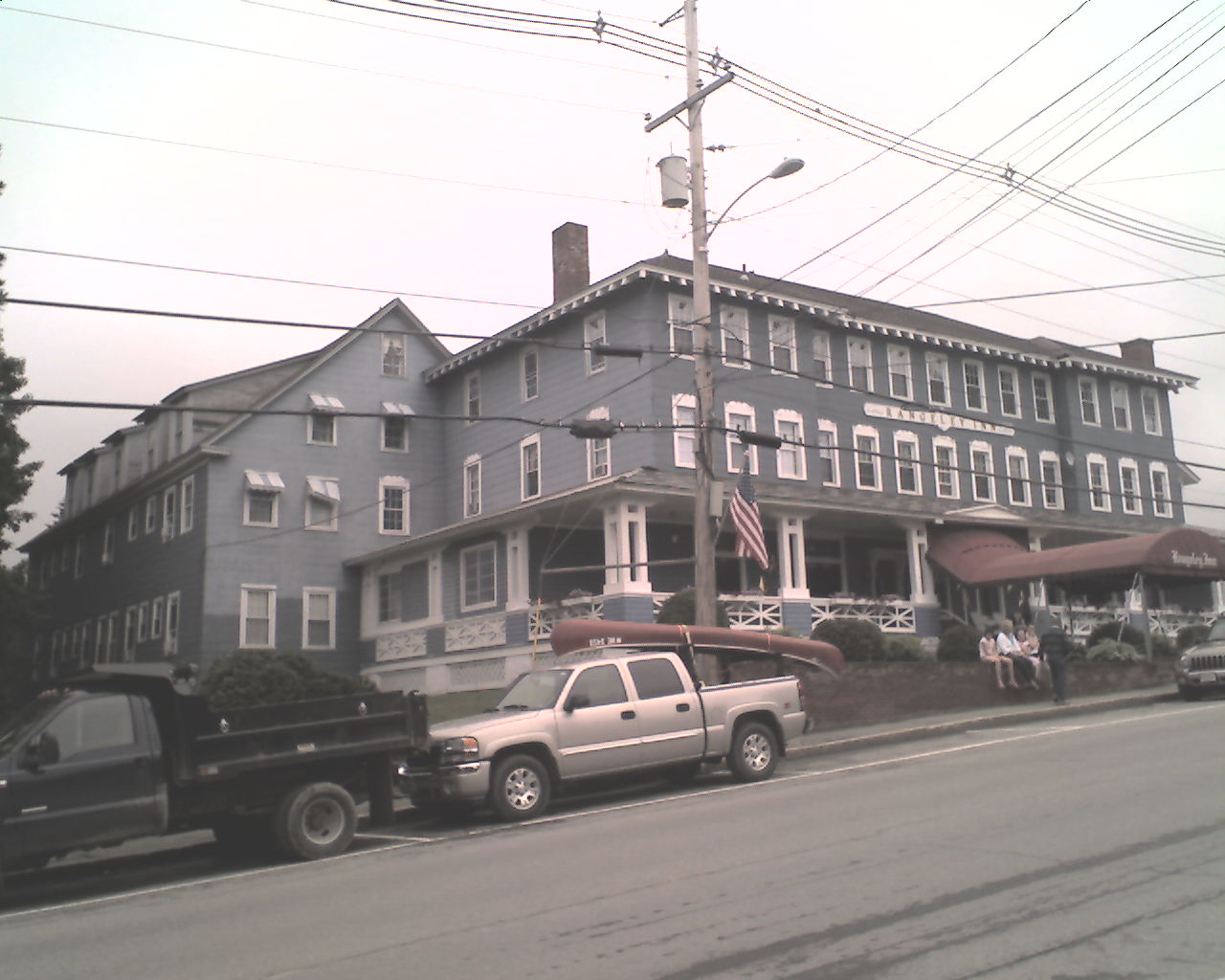 Friday, July 3, 2009


Zero Day
Location For The Night: Rangeley Inn, Rangeley, Maine
Miles Walked Today: 0.00
Day Number: 16

At 7:30am as we relaxed at the Rangeley Inn, www.rangeleyinn.com, (today's photo)contemplating breakfast Flaxseed said he felt as if a freight train had run over him, emotionally and physically. Walking in mud and water day after day takes its toll. But, we were also anxious to be back on the trail. Our gear was dry, we had had a night in town and it was not raining (yet). But, rest is necessary so we stayed here today.

We had a great breakfast at the BMC Diner near the hotel. After breakfast we rested and slept until 12:30pm. Then we ate lunch at the Red Onion.

This afternoon we repaired our hiking shoes. Flaxseed bought a new rain cover for his backpack and I bought a pair of Crocs to use for camp shoes. Normally I do not carry camp shoes but my hiking shoes have been wet every night for two weeks, even in the trail towns. We also resupplied, hoping to make it to Gorham, New Hampshire, before having to do so again. This will be a fairly simple task if it will stop raining continuously.

Oh, we also watched the "Deadliest Catch" off and on all day. It was on the Discovery Channel all day.

Today there was no rain in the morning, the sun came out at noon for about 4 hours, thunderstorms rolled in, and it's still raining at 8:40pm as I type. By the way, this afternoon there was a beautiful double rainbow, one over the other.

Tonight we ate supper at the hotel's pub. Charles, the owner, gave us personal attention and served the best burgers we have had to date; best in the state of Maine we think.

Now it's bedtime and we're ready for our second night in town in a row. We're also ready to hit the trail tomorrow. It will probably be raining.

Many of God's blessings to each of you.
---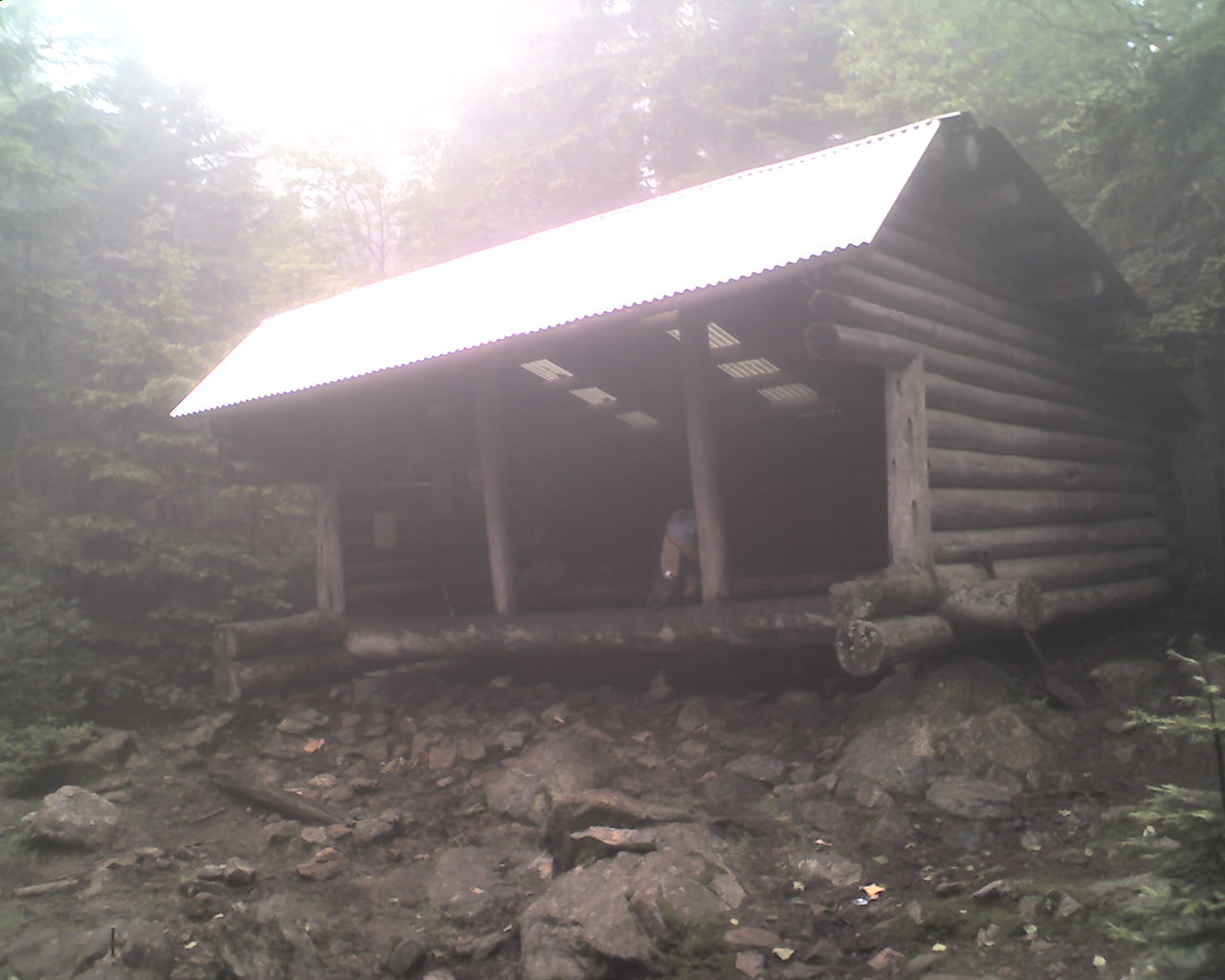 Saturday, July 4, 2009


More Slop
Location For The Night: Bemis Mountain Lean-to tent site
Miles Walked Today: 17.70
Day Number: 17

Flaxseed and I were up at and packed by 6:00am. At 6:30am we ate breakfast at the BMC Diner. Bob O'Brien of the Gull Pond Lodge hiker hostel gave us a shuttle to the trail head and we were hiking by 7:45am.

It rained during the night and rained most of the day. The trail continues to be sloppy. All day long we waded ankle deep water and mud. Sometimes it was knee deep. I stepped in one mudhole that was thigh deep, lost my balance, and almost went under, pack and all. About an hour later when we got to Sabbath Day Pond I waded in about waist deep and washed my muddy pants while still wearing them. Did a pretty good job too.

We flushed a mother grouse today. She took off low and flew up the trail in front of us. We immediately saw two of her chicks hiding along the side of the trail.

We met Warren and Terry Doyle hiking north with day packs. They live in North Carolina. Warren claims to have over 30,000 miles of backpacking experience. That's a lot of miles.

The AT in Maine is hard hiking. It would be hard even if the weather were good. It is more difficult than anything I experienced hiking 1,260 northbound miles in 2007. We walked 12 long hours today and only did 17.7 miles. Down south we would have done 25. Flax knew this but didn't tell me. I was sandbagged again. Oh well, we're getting the hard part out of the way first. The White Mountains of New Hampshire are coming up soon.

Today's photo is a typical lean-to here in Maine.

Today we started in Rangeley, Maine, trail 220.0, and ended in our tents at the Bemis Mountain Lean-to tent site, trail mile 237.7, a total of 17.7 miles today.

God bless you all.
---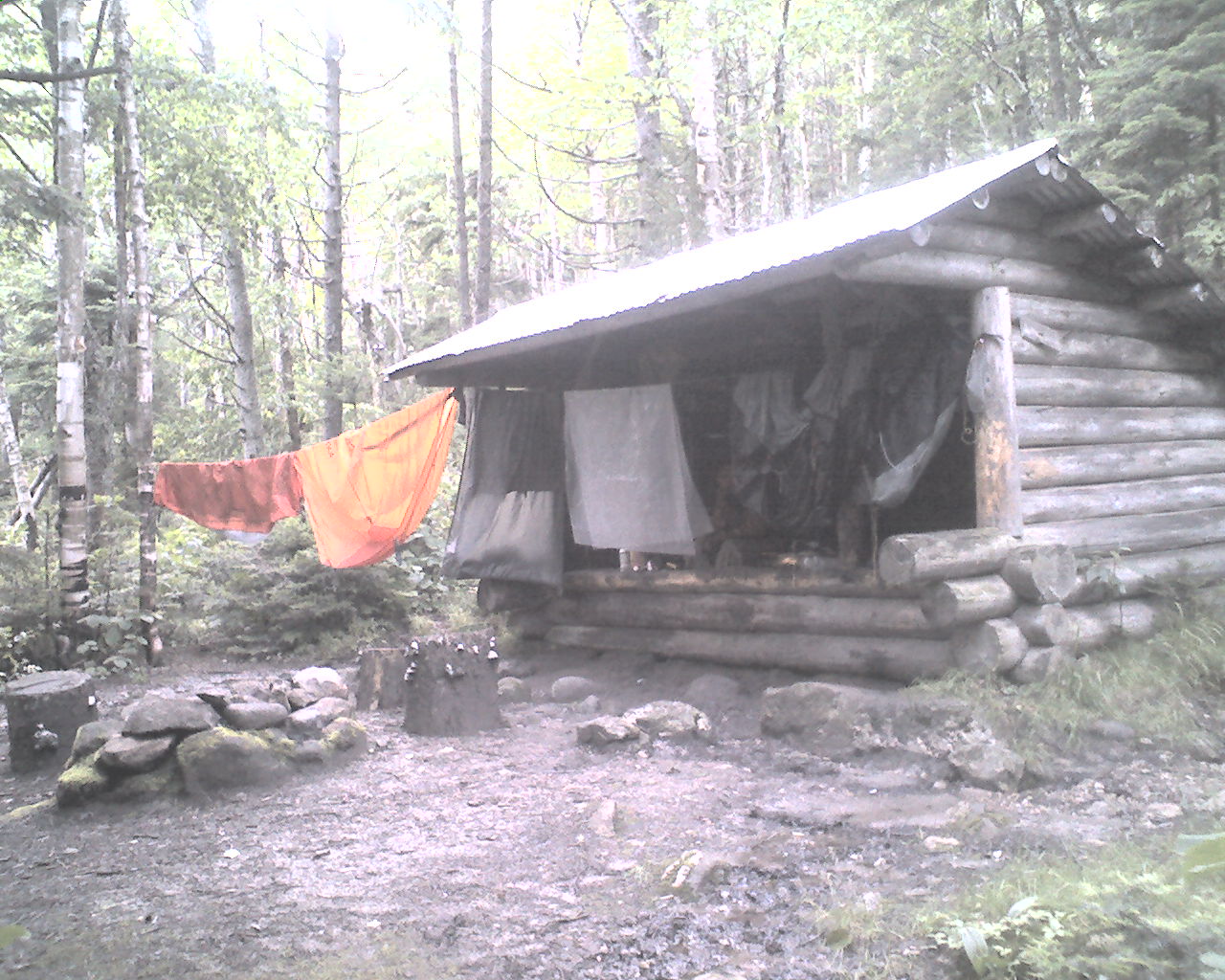 Sunday, July 5, 2009


Wet Tents
Location For The Night: Hall Mountain Lean-to
Miles Walked Today: 12.80
Day Number: 18

Yesterday I told you that we pitched our tents at Bemis Mountain Lean-to. The reason we did so was the shelter was full (5 teenage boys and one through hiker). I did not tell you it was raining, cold and windy. The wind and rain continued all night and the temperature was probably around 47 degrees this morning. We packed up in a misty rain, ate some breakfast and started walking at 6:30am.

This was another strenuous day. We had two tough stream crossings; one waist deep, and we climbed Old Blue Mountain, Moody Mountain and Hall Mountain.

The rain stopped at about noon and we had a little sunshine this afternoon. Maybe tomorrow will be a sunny day.

This afternoon as we descended Moody Mountain we came to a trail detour. The part of the mountain where the trail had been was gone. The constant rain had caused this part of the mountainside to simply slide on down to another location. I guess you could call it an avalanche.

We hiked hard today from 6:30am until 6:00pm, taking only 20 minutes for lunch. For all this effort we did 12.8 miles, starting at Bemis Mountain Lean-to, trail mile 137.7, and ending as the only occupants of Hall Mountain Lean-to, trail mile 250.5. We're going backwards. The harder we hike the slower we go.

Today's photo was taken tonight at Hall Mountain Lean-to. We have our tents, and ground sheets (wet since this morning) hanging up t dry.

Many of God's richest blessings to you all.
---