Tuesday, June 16, 2009


High Hopes
Location For The Night: Home - Paducah
Miles Walked Today: 0.00
Day Number: -1

Tomorrow, after months (really years) of preparation and training the saga continues. Once again I begin an Appalachian Trail through-hike. Hopefully I will succeed. In 2007 after 1,260 miles (The total length of the AT is about 2,200 miles.) my northbound attempt was cut short in northern Pennsyvania. A tick bit me and I contracted Lyme disease.

This year I will be walking south instead of north, starting at Mt. Katahdin in Maine and ending, I hope, on top of Springer Mtn. in Georgia.

Flaxseed, trail name of my gregarious and tenacious hiking buddy who completed his 2007 through-hike, will join me. My trail name is Ringmaster.

You will be able to follow along. I will post daily journal entries here when and as I can find cell towers. I hope you enjoy them.

God bless you all.
---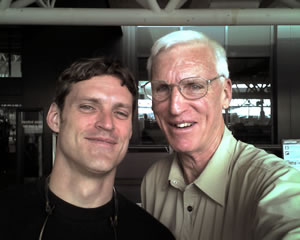 Wednesday, June 17, 2009


Slight Delay
Location For The Night: Appalachian Trail Lodge, Millinocket, Maine
Miles Walked Today: 0.00
Day Number: 0

Put on your bifocals. I'm stranded in Detroit so this is going to be longer than usual.

After a good night's rest I was up at 4:15am. My backpack was packed, checked and ready. I tended to some last minute housekeeping chores, added a few check list items for son Gil and got coffee perking for our church's regular Wednesday morning men's prayer at my house. At 5:00am grandchildren Makala, Elijah, Wil and Emilia surprised me with a final farewell. When the guys arrived they prayed for me. Twice blessed on my last morning at home. Can't beat that.

Son Glen picked me up just after 6:00am and we were off to the Nashville airport, arriving at about 8:30am. Today's photo is Glen and me at the airport. Thanks Glen. You're a blessing too.

The flight out of Nashville was delayed by foul weather. Touch down in Detroit was at 1:24pm, 5 minutes before the departure of the flight Flaxseed (he had flown from Houston) and I were to share to Bangor, Maine. Luis, Delta's patient service desk supervisor, efficiently rebooked me on a 9:30pm commuter flight to Bangor and issued me a $13.00 meal voucher. Then these lyrics started rolling around in my head again: "...Third boxcar, midnight train (or plane), destination, Bangor, Maine. Old worn out suit and shoes, I don't pay no union dues."

I'm to arrive in Bangor at 11:30pm and take a cab (instead of the scheduled bus) to Millinocket, a 72 mile trip. I called Paul at the Appalachian Trail Lodge in Millinocket where we're to spend the night and told him about my new itinerary. I also told him to tell Flax I hadn't bailed. Flax doesn't use cell phones.

Then I ate lunch at McDonald's. I'm saving the $13.00 voucher for supper. At lunch I met Jeff Niese, Senior Forester for Wisconsin's Public Lands. I connected with him before we spoke. He had ordered a Filet-o-Fish meal too (a #11). Jeff was returning from his family's cabin in the mountains of New York with a real old 16mm movie projector for his dad. I told him I was going to Maine to hike the AT and showed him my ring trick. He told me about his outdoor adventures in Vermont near and on the Long Trail, in New York near Bear Mtn., and in New Jersey, all on or near the AT. Jeff admonished all of us to "protect those forests."

It's 7:47pm right now. I'm ready for that $13.00 meal. I'll finish this when I get to Millinocket. Or maybe not. This may be it for today.

Blessings to all of you.

---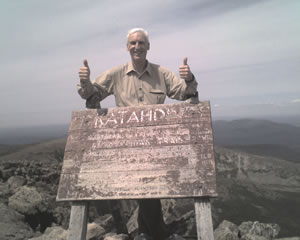 Thursday, June 18, 2009


Mount Katahdin
Location For The Night: The Birches next to Katahdin Stream
Miles Walked Today: 5.20
Day Number: 1

This morning at 1:15am I arrived at the Appalachian Trail Lodge in Millinocket via a taxi-cab from the Bangor airport. Flax had reserved bunks for us in the 2nd floor bunkhouse and he was there in his bunk. He heard me come in, jumped up and greeted me. Within minutes it was as if we had never been apart. Everything seemed right. Flaxseed and Ringmaster were going to try to hike the AT again.

We arose at 5:15am and walked 3 blocks to the suitably named Appalachian Trail Café looking forward to a "hiker special" breakfast; pancakes, sausage, bacon, eggs and hashbrowns served on two big platters for each hiker. I made a comment about Flax's new short, fuzzy ponytail. He turned his head and grabbed hold of it. Then he said, "Ringmaster it must look pretty rough because when I was training for this hike my backpack on several people thought I was homeless and stopped to ask if I needed any help."

We packed our gear and joined potential through-hikers Cool Change from Alabama and Jo and Phil from Minnesota for the ride to Baxter State Park's Katahdin Stream Campground. Flax and Cool Change, an ex-special ops solider just back from fighting in the mountains of Afghanistan, headed south, by-passing Mt. Katahdin. Flax had told me earlier he might do this. His left knee is hurting, and, as I can personally testify tonight, Mt. Katahdin is a test, especially starting out. Flax said, "Don't worry Cool Change. Ringmaster will catch us before we get to Monson (the next trail town)." We'll have to wait and see about that.

Jo (a girl), Phil and I hiked up Katahdin and back. The AT actually starts at the top of Mt. Katahdin. The miles going up don't count.

At 9:50am as I started up the mountain walking along Katahdin Stream, even with Flax a day ahead, everything seemed right. The smells of spring conifer growth, the cooler air as I ascended, the feel of the trail underfoot, all blended to form a symphony of rightness and fullfilment. Praise God for his marvelous creation.

The climb started easy, then became somewhat steeper and much more bouldery. At 12:00noon I met Nelson Daigle of Millinocket descending. This was Nelson's 392 ascent of Mt. Katahdin in the past 15 years. On top I met 3 generations of the Quimby family, 18 of them. The patriarchs are dairy farmers from Troy, Maine. One of the 3rd generation took the traditional picture of me at the mountain top sign marking the AT's northern terminus. I asked her to make me look younger. The 360 degree view from the top was, as you would expect in an outdoor report such as this, breathtaking and exilerating.

On the way down I overtook south bound through-hiker Country Runner. He's a 52 year old trail runner (the source of his trail name) that recently retired from a job in Beijing, China; something technical sounding. He said he was looking for something to do. He's found it.

Down from the mountain at 5:15pm after 10.4 tough miles (5.2 for the record) I checked in with Rachel and Elizabeth at the ranger station, showed them the ring trick, and set up camp in a lean-to at The Birches next to Katahdin Stream. Elizabeth grew up in St. Matthews, Kentucky on Springhill Street, one street over from where I grew up. Small world.

Eight ounces of corn grits, powdered milk and brown sugar made a fantastic supper.

I typed this report and at 9:00pm took to my bed, dead tired, listening to the tumbling waters of Katahdin Stream. What a deal.

Blessings to all.

---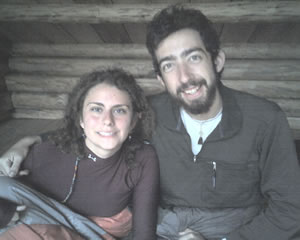 Friday, June 19, 2009


Cold Rain
Location For The Night: Abol Pines Campsite
Miles Walked Today: 9.90
Day Number: 2

I was up at 4:30am, finished yesterday's journal entry and on the trail at 5:55am. By 6:30am it was raining steadily. The woods here is rugged and full of boulders, but pretty flat, just little ups and downs. It looks old and untouched. I walked beside several lakes and the Nesowadnehunk River. It's Nesowadnehunk Falls is big and loud. At 8:27am I saw a beaver swimming beside the trail. He tucked and dove when he saw me, his tail slapping the water hard. Thanks Mr. Beaver; quite a show. The trail was cushioned by pine needles for much of the way; very soft, like a sponge.

At 11:00am I arrived Abol Bridge, which crosses the Penobscot River at AT mile 15.1. I ate a good lunch at the Abol Bridge Camp Store and bought some more stove fuel (alcohol).

Right across the road from the store is Abol Pines, a state campsite with two new lean-to shelters and tent sites. These lean-tos are so new they are not listed in my guide book. I was dog tired and needed to rest so I walked to a lean-to on the bank of the Penobscot and took a nap. When I awakened it I was still tired and it was raining harder. So, much to the chagrin of my ego but not my better judgment, I decided to spend the night. As tired (and sore) as I am it was the smart thing to do. So, 9.9 miles for today. A little lame.

Sometime later this afternoon SOBO (AT lingo for south-bound) through-hikers Stranger, from Maryland, and Tiger Lily, from a little town in Mississippi two hours south of Jackson (brings to memory the Johnny Cash and June Carter Cash song about going to Jackson), occupied the other lean-to. Stranger (male) and Tiger Lily (female) are both recent graduates of Goucher College in Baltimore. They both majored in music. I told them about Luke, my 22 year old son, who is also majoring in music and has a music related internship in Chicago this summer. Stranger and Tiger Lily are hiking the trail because they "thought it would be neat." It's neat alright - with a lot of other adjectives thrown in to boot. Today's photo is Tiger Lily and Stranger in their lean-to (Down south on the AT lean-tos are called shelters.)

May God bless you all.
---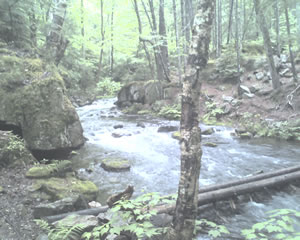 Saturday, June 20, 2009


Wet Trail
Location For The Night: Rainbow Stream Lean-to
Miles Walked Today: 15.00
Day Number: 3

Today I was up at 4:30am and started walking at 5:24am. Rain was pouring down as it had all night long. But I felt great. Yesterday's rest in the afternoon was just the ticket.

By 7:45am I was at Hurd Brook Lean-to. Country Runner had spent the night there and was packing up getting ready to hit the trail. I ate my granola and hiked on.

Water was everywhere. On the trail and across the trail. In spots the trail was a small river. There was sticky mud too. A couple of times it sucked my shoe off my foot. But it was fun; a lot of fun.

At 10:30am I ran into prospective SOBO through-hikers Christie and Ron and their dog. Christie had fallen and cut her upper lip; pretty deep. They were backtracking to see about getting it sewed up. Christie was really shook. Ron said, "So far the AT is kicking our butts." I asked if I could pray for her and they were very receptive. After I prayed they both thanked me. Ron had tears in his eyes. I doubt if they will return to the trail. It's a rude awakening for many folks. It ain't easy.

The trail meandered alongside Rainbow Lake for about 8 miles. I saw a lot of beaver cuttings and two big beaver dams. At 12:45 I saw moose footprints in the trail, but never did see a moose. Later, at camp, Country Runner said he saw a moose cow and a calf in Rainbow Lake.

I arrived at Rainbow Stream Lean-to at 1:30pm just in time to greet SOBO hikers Angi and Darren, two veterinary majors at St. Georges University in Granada (the Caribbean island). They were finishing a meal and moving on. Angi says, "When it's wet it's not fun."

Country Runner arrived at 1:50pm and we both decided to camp here. At 3:30pm northbound hikers, Gary and Chris joined us. They are out here for a week. We are all here in the Lean-to. It's finally stopped raining, but still overcast.

Today I walked exactly 15 miles to Rainbow Stream Lean-to at mile 30.1. The photo is of Rainbow Stream right next to our campsite.

Blessings to all.
---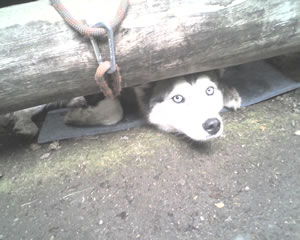 Sunday, June 21, 2009


Raging Streams
Location For The Night: Potaywadjo Spring Lean-to
Miles Walked Today: 18.20
Day Number: 4

I started walking this morning at 5:24am. Thirteen minutes after leaving camp I thought about the short graphite poles that are part of my tarp/tent. I had left them at the shelter so I had to backtrack to get them. I'm thankful I had only gone a half a mile when I thought of them. It could have easily have been ten.

The trail followed along the raging waters of the outlet stream from Murphy Pond. It seems that all the lakes and ponds here are connected by streams that flow from one to the other. There will be a lake, then (because of all the rain) a raging stream, then another lake. This is how it seems but I'm certainly no expert so I may be wrong. In any case all the streams were full and roaring today. There were several pretty scary fords with swift thigh deep water. The trail continued to be wet and muddy.

At 9:30am I reached the top of Nesuntabunt Mountain. I tell you this so you can have fun pronouncing this Indian name. Say it three times fast.

At 9:30am I met northbound hiker, one frowning Tumbleweed Baggins. He had started at Monson, Maine, at the south end of the 100 Mile Wilderness, which is where I am now. (This is why these first several days are late being posted - no cell signal here.)Tumbleweed Baggins said he picked Tumbleweed because he moves around a lot and Baggins because he is Bilbo Baggins' nephew and he once heard that Bilbo was "a short, roundish homebody." As I left TB I thought to myself, "Now there's a paradoxical name for sure."

At 11:15am I stopped for lunch at Wadleigh Stream Lean-to. Cool Change was there - taking a zero. His feet are a mess, big blisters everywhere. He said he would hike tomorrow.

At 4:00 Country Runner and I crossed made the worst ford of the day that required walking a narrow, makeshift log bridge from the trail to a big rock in the middle of a raging stream and then dropping down into waist deep rapids 25' from the opposite bank. Scary.

I got to Potaywadjo Spring Lean-to, mile 48.3. That's 18.2 miles today. I'm here tonight with Mud Puppy, Sisyphus, Backwards and Icarus, a 10 month old Siberian Husky, Sisyphus' pride and joy. Today's photo is of Icarus

God bless each of you.
---
Monday, June 22, 2009


Sandbagged
Location For The Night: Logan Brook Lean-to
Miles Walked Today: 23.10
Day Number: 5

To take advantage of the longest days of the year today I was up at 3:15am and on the trail at 4:00am. I used my headlight for the first 30 minutes. I wanted to make some miles today. I am trying to catch Flaxseed. The old boy sandbagged me. By keeping up with the log books in the lean-tos I know about where he is. He bellyached and moaned about how bad his knee was hurting and how he was going to limit himself to 15 mile days and now he's flying down the trail about a day and a half ahead of me. And that's not all. He leads all the other hikers to believe that Ringmaster (that's me) is super-fast and will catch him without any trouble. In the meantime he's sailing on down the trail leaving me in the dust. That Flaxseed. He's something else.  
 
There was no rain today but it was breezy, overcast and cool. The trail is still a mud hole and the creek crossings are an adventure. At one crossing today the swift water was waist deep. It's tedious work to maintain balance and keep from falling. Today's photo is a "typical" section of muddy trail. High priced Gortex lined boots are absolutely worthless. In spots the mud will literally suck the shoes off your feet.
 
The mosquitoes and blackflies are here and thick in places but they have not been a problem at night - so far.
 
At 8:41am I heard wolves howling. A haunting sound.
 
At 9:34am I saw my first moose. She (no antlers) was walking down the trail toward me. When she saw me she slowly walked out into the woods. There are moose droppings on the trail everywhere. They must use the trail as much or more than the hikers.
 
Today I started at trail mile 48.3 and I am camped tonight at Logan Brook Lean-to, mile 71.4, 23.1 miles total for the day. Here at the shelter tonight are Tenacious Turtle, Lakota, Den and Evan.
 
Many blessings to all.
---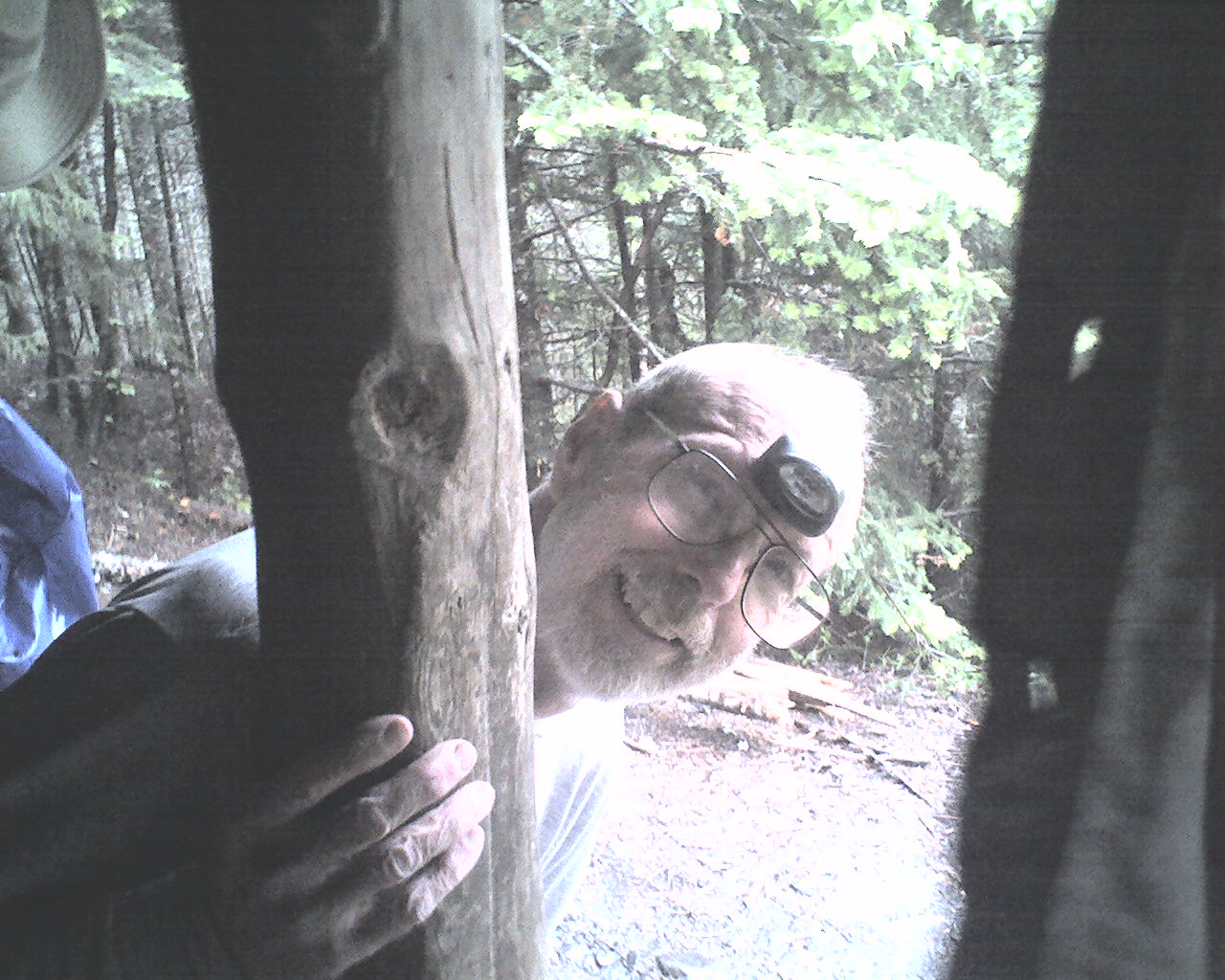 Tuesday, June 23, 2009


Walking Cowboy
Location For The Night: Chairback Gap Lean-to
Miles Walked Today: 17.10
Day Number: 6

This morning I was up at 4:00am and started walking at 4:48am. The lean-to was  full last night, 6 people. Another guy joined us after I finished yesterday's entry. When it's like that one must be cautious about keeping up with one's stuff, particularly with wet gear hanging everywhere and folks nestled together like sardines in a can. At night I am careful to put everything I don't need while sleeping back in my pack. In the morning I carefully check to make sure I haven't left something behind. But, these shelters sure are nice when it's raining continuously. My tarp/tent is dry inside but setting up and taking down in the rain and doing so on sodden ground gets stuff wet.
 
It rained off and on (mostly on) all day long. The sun has only been out for a few minutes since last Thursday. More slogging along. Wet Wilderness.
 
After 70 miles of relatively easy terrain (excluding Mt. Katahdin) the mountains have started in earnest. Today's climbs included White Cap and Chairback Mountains. Whitecap is a 2,400' vertical climb to 3,650' and Chairback is 1,500' of vertical. Good practice for the bigger stuff.
 
At 8:00am a scrawny rabbit came hopping down the trail toward me. He looked like a cottontail that had been beat up. Startled, he ran back up the trail, turned around and came right back toward me before hopping off into the woods.
 
At 10:00am I overtook Walking Cowboy, a 66 year old Georgian that Flaxseed climbed Mt. Katahdin with in when he finished his 2007 through hike. I'll tell you more about him later. I've got concerns.
 
At 11:28am I came upon John Rainsborough, 66, cutting a diversion ditch with a spade. John is a volunteer with the Maine Appalachian Mountain Club. He and his wife maintain 4 1/2 miles of trail. I sincerely thanked John for his work, but wondered to myself why he was out here at his age, with a spade, in the rain.  
 
At 1:42 near a side trail named Gulf Hagis Trail I met the Cawood family; mom, dad and two boys, up here on a family vacation. Dr. Cawood (I didn't write down his first name) is from the same family that Cawood Ledford's mother was from. She was a Cawood. That's how Cawood (the UK broadcaster) got his name. They are from Prospect, Kentucky and Mr. Cawood graduated from my alma mater, Waggener High School. Small world.
 
Near the end of today's walk  my shoes were sucked off my feet in a bog, both at the same time. I was sock footed, still ankle deep. I looked back and smiled. Both shoes were barely sticking up out of the mud. I thought about Mr. Rainsborough's diversion ditch and smiled again. The whole trail needs one big diversion ditch.
 
Walking Cowboy (see today's photo) and I are bunked  together tonight at Chairback Gap Lean-to, nobody else is here. He got here at 6:30pm, two hours after I did. He told me this is his third AT through-hike since 2004. I hesitate to publish this on the Internet, but I'm fearful he's too old to be out here doing this kind of stuff, especially over and over. Sixty-six, that's real old. I'll try to look out for him.
 
Today I walked 17.1 tough miles in 11 1/2 long hours, from Logan Brook Lean-to, mile 71.4, to Chairback Gap Lean-to, mile 88.5.
 
Blessings to all.
---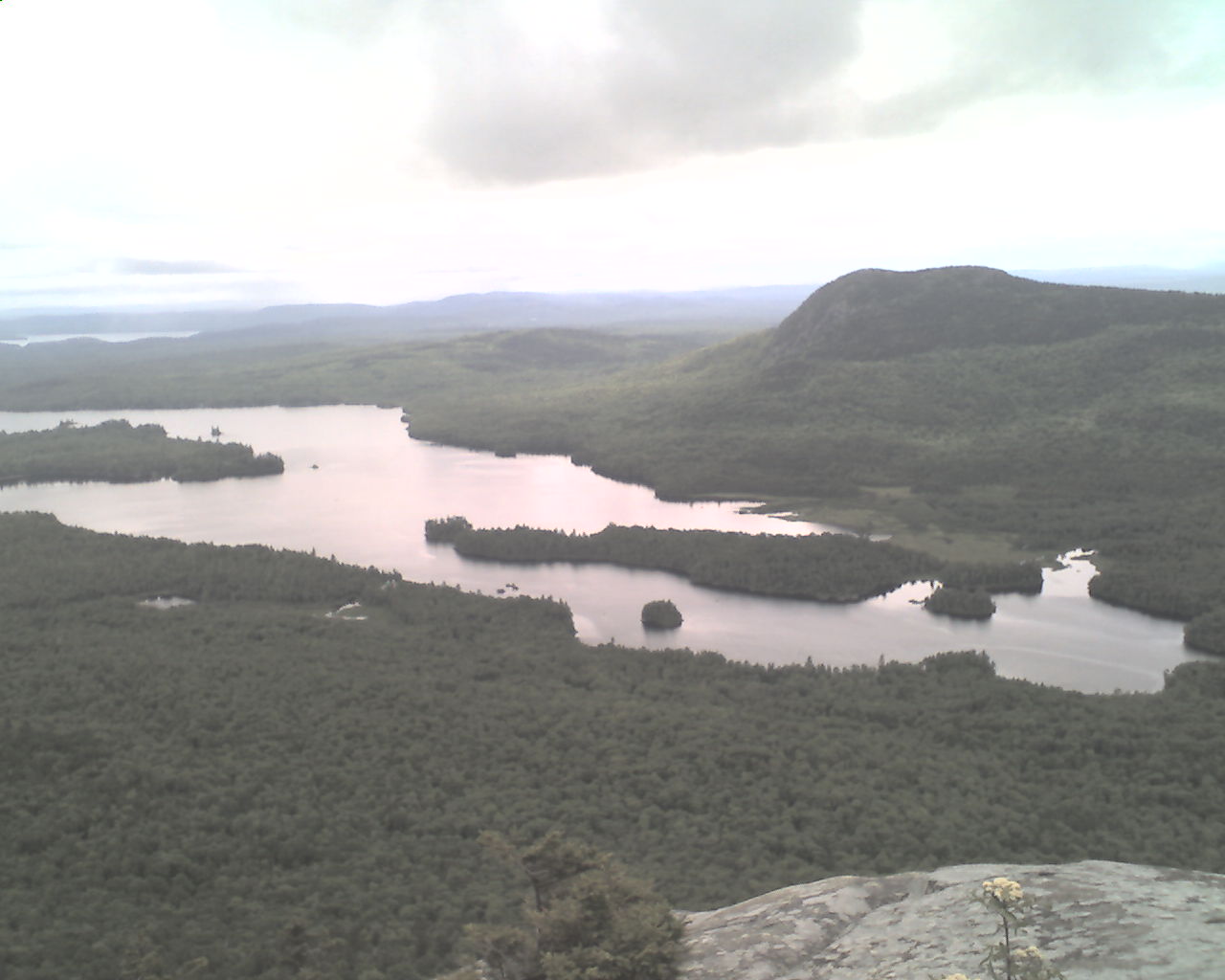 Wednesday, June 24, 2009


Sunshine
Location For The Night: Wilson Valley Lean-to
Miles Walked Today: 15.60
Day Number: 7

This will be a short entry because I'm tired tonight. The mud and thousands of water slick rocks take their toll.
 
I left camp at 5:20am this morning. A about 8:15am I slipped and fell twice within 5 minutes. The first fall was not so bad, but the second one hurt my tail bone and my left wrist. Fortunately I don't walk with either, so I'm fine, just sore.
 
I met 4 NOBOS today about to finish their trek from Georgia. They all looked focused.
 
At 1:00pm the sun came out and things started to dry. This is good. We all need to dry out up here.
 
At 1:50pm I ate lunch at Long Pond Lean-to which is about 15 miles from Monson. Flax had left there at 5:40am today headed for Monson, a day ahead of me. I did another 5 miles after that so I am about 10 miles from Monson tonight. I should get there at about noon tomorrow. I am looking forward to a day and night in town.
 
Today was another tough hike with lots of rocky, wet and steep climbs and similar steep descents. Hard to make many miles. I had one tough scary creek to ford also, Long Pond Stream. It was waist deep and flowing swiftly. Today's photo is a view of one of the many lakes up here taken from the side of a mountain.
 
Today I started at Chairback Gap Lean-to, mile 88.5, and ended up at Wilson Valley Lean-to, mile 104.1 for a total of 15.6 miles.
 
God bless all of you.
---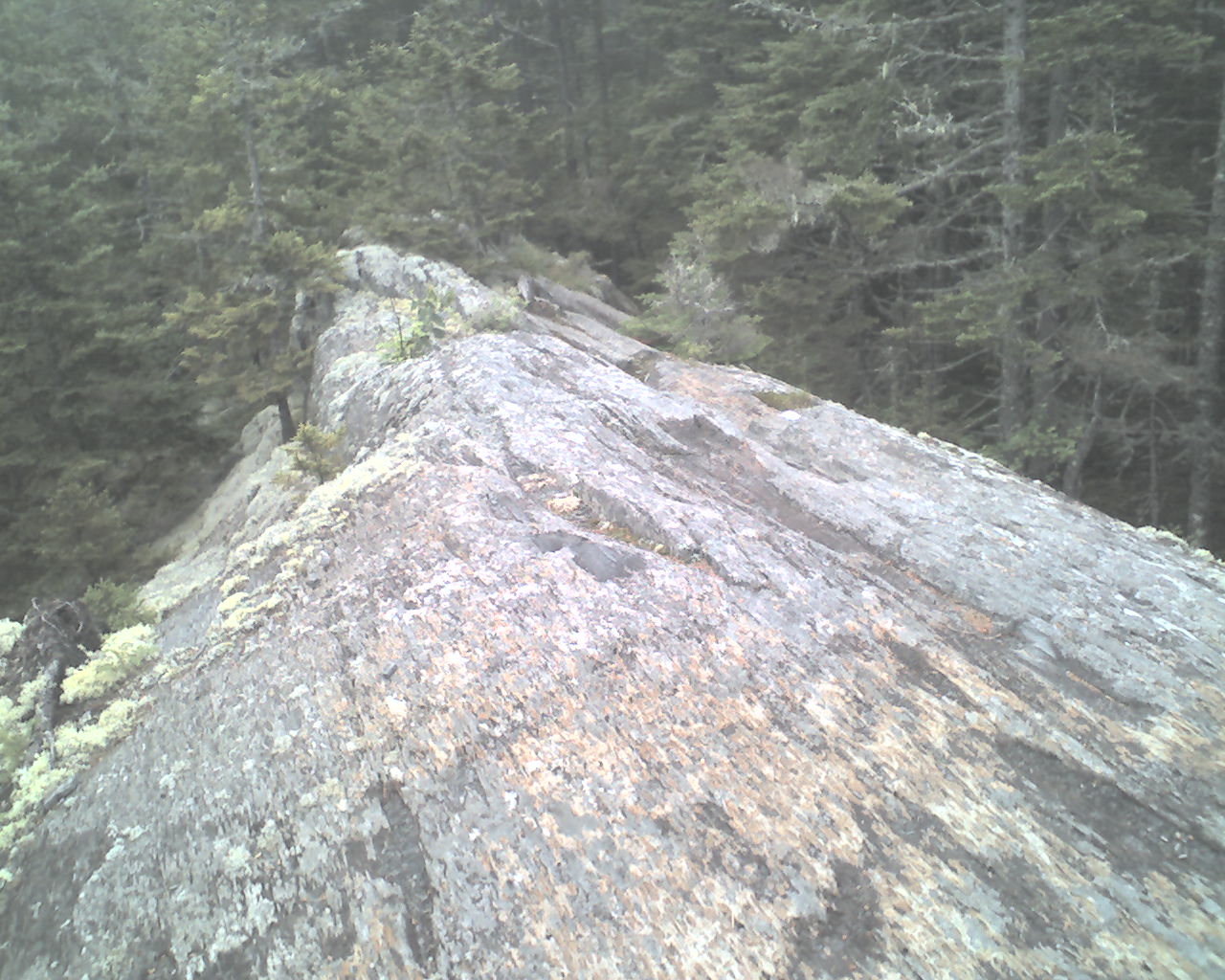 Thursday, June 25, 2009


Monson, Maine
Location For The Night: Lakeshore House Inn, Monson, Maine
Miles Walked Today: 10.40
Day Number: 8

I slept better last night than any night so far. And, though I did not say so yesterday, my wrist was badly swollen and sore when I retired last night; so sore that my left hand was virtually out of commission - no grip strength. I was worried. I need that left hand out here. Before retiring I took two Vitamin I (Ibuprofen) and tightened my watch band snugly around my wrist. This morning the pain was gone and so was the swelling. Why? I thanked the Lord.

I left camp at 4:36am headed for Monson.

Today's walk took me over many shale outcroppings or spines. (See today's photo. Most of the layers of shale are vertical, not horizontal. Geologists may have an explanation for this, but who knows? No one was around when it took place. My opinion is that God has created an amazing world and that this AT Walk allows me an opportunity to experience His creative work first hand, however He may have accomplished it.

The trail builders deliberately, and with malice of forethought, take the AT over every hill they can find. They seldom miss a one. Today was a good example, up and down all morning.

At 6:23am under a heavy mist, I heard cows bellowing and men's voices in the valley to the east. Civilization again.

At 8:15am I met Little Engine and Castle, a mother and daughter team hiking team headed north. This is unusual. They are from Woodstock, Vermont.

At 11:45am I arrived at Maine Highway 15, 4 miles west of Monson. I called Rebekah at the Lakeshore House Inn and Pub. She sent Jeremy to pick me up. And who should be there to greet me? You guessed it, Ol' Flax. He spent last night here at Shaw's, another hiker hostel. He knew when I would be here by reading last night's journal entry on the Internet and decided to wait until I got to town. He even bought my lunch.

We joked about his sandbagging me, but did he hang around for another day so we could start out even in the morning? Of course not. (Flax does not take many zeros.) Right after lunch he hit the trail, so I am still behind. The rascal.

I did all the regular through hiker stuff; picked up my drop box, washed clothes, bought food in Greeenville just west of here, and ate two good town meals. I also bought a new hiking shirt and pants. The super lightweight ones I started with were coming apart, too thin.

Walking Cowboy got here about 6:30pm tonight. I ate supper with him. He said he had fallen too. Just as I said, at 66 he's probably too old to be doing this kind of thing.

Now it's 9:53 and I need some sleep. Rebekah is going to let me take her car to the trailhead early tomorrow so I can get an early start. My best hiking is in the morning.

Today I walked 10.4 miles to trail mile 114.5.

Bless each and every one of you.
---