Wednesday, October 14, 2009


Wet Again
Location For The Night: Wayah Shelter, trail mile 2,059.6
Miles Walked Today: 16.30
Day Number: 119

Our stay at Nantahala Outdoor Center was great. Our room was clean and comfortable as was the lodge. We both got a good night's sleep. The restaurant meals were good. NOC is a first rate operation. There was one drawback. It was raining this morning and we had to walk in it. I wish we could have stayed another day.

We ate breakfast in the lodge and were back on the trail at 7:45am. As I said above, it was raining. The rain continued throughout the day and it's still raining at 8:00pm.

We climbed out of the Nantahala River Valley (elv. 1,723') to Copper Ridge Bald (5,080'). Climbs like this are difficult but we are fit. At this point in the trip climbing is second nature. It's what we do - everyday.

At 3:00pm we arrived at Burningtown Gap where North Carolina 1397, a gravel road, dead-ends. A bear hunter was sitting in his pick-up punching buttons on his bear dog radio collar receiver. As we walked by he said the collar transmitters were not working and asked us to keep an eye out for two missing dogs. We said we would and Flaxseed told him we'd heard different opinions on bear meat and asked for his. Here's what he said. "Bear meat's not like any other meat. It's got a lot of fat on it and it's greasy. I trim it real good to get the fat off of it and then boil it twice, the second time with vinegar. I barbecue a lot of it too. It's good. I like it."

At 4:00pm we walked through Licklog Gap. I'm not kidding. Licklog Gap.

At 4:45pm we found exactly what we were looking for, a dry place to spend the night, Wayah Shelter (4,810'). We stripped off wet gear and put on dry. I cooked and ate. Flaxseed, as always, ate cold. Then we crawled in our winter sleeping bags. It's about 45 degrees and they sure feel good. We are the shelter's sole occupants tonight.

Today's photo was taken yesterday morning just after sunrise at Stecoah Gap. Even south of the Smokys, these mountains appear to be on fire.

Today we walked from Nantahala Outdoor Center, trail mile 2,043.3, to Wayah Shelter, trail mile 2,059.6, a total of 16.3 miles for the day.

God bless you all.
---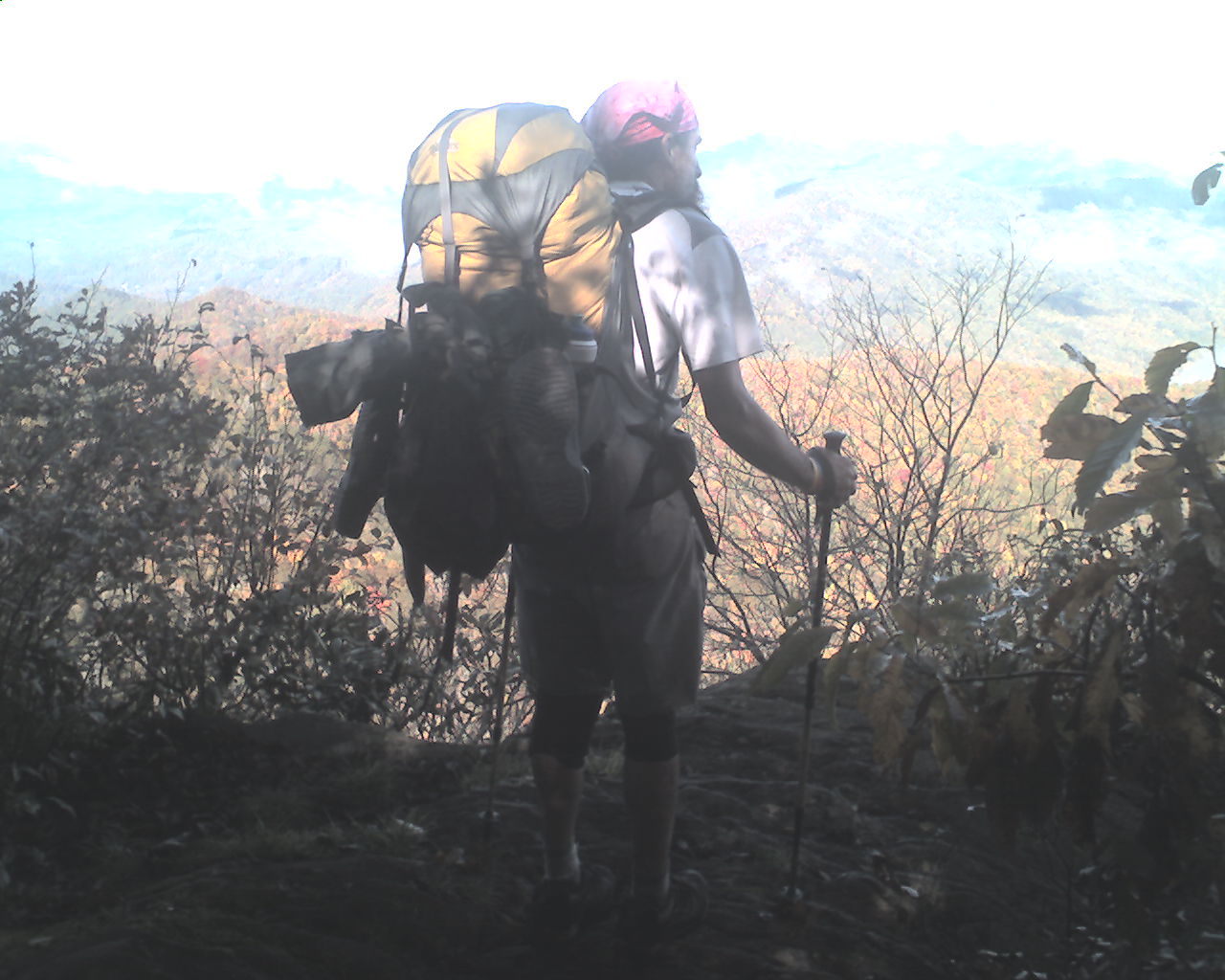 Thursday, October 15, 2009


Wet Feet
Location For The Night: Big Spring Shelter, trail mile 2,079.7
Miles Walked Today: 20.10
Day Number: 120

Flaxseed set a record last night. He caught six mice. I heard the trap snap shut once. After that I was sound asleep. This morning we put on our wet shoes and were walking in the rain and fog at 6:30am.

It rained extremely hard all morning and part of the afternoon. We waded several shallow creeks that were rushing down the mountain. Wading creeks is no problem when your feet are already completely soaked.

Finally, at 2:00pm, the rain subsided but the wind intensified and fog remained. Maybe, just maybe, we'll have a dry day tomorrow.

We did not see any hikers, bear hunters or bear dogs on the trail today.

At 5:10pm we reached Big Spring Shelter (4,940'). Two hikers were in the shelter drying out gear and getting ready for supper. Flax elected to pitch his tent. I chose the shelter.

My sheltermates tonight are father and son, Dan (50) and Tim (12) Young from Fuquay-Varina, NC, 20 miles south of Raleigh. They are out for a four day, forty-mile hike. Tim is a First Class Scout in Troop 320, First United Methodist Church in Fuquay-Varina. Dan is section hiking the AT. When he completes this trip he will have hiked a total of about 1,400 miles.

Today's photo was taken the last morning we saw the sun. Flaxseed is enjoying a view.

Today we walked from Wayah Shelter, trail mile 2,059.6, to Big Spring Shelter, trail mile 2,079.7, a total of 20.1 miles for the day.

God bless all of you.
---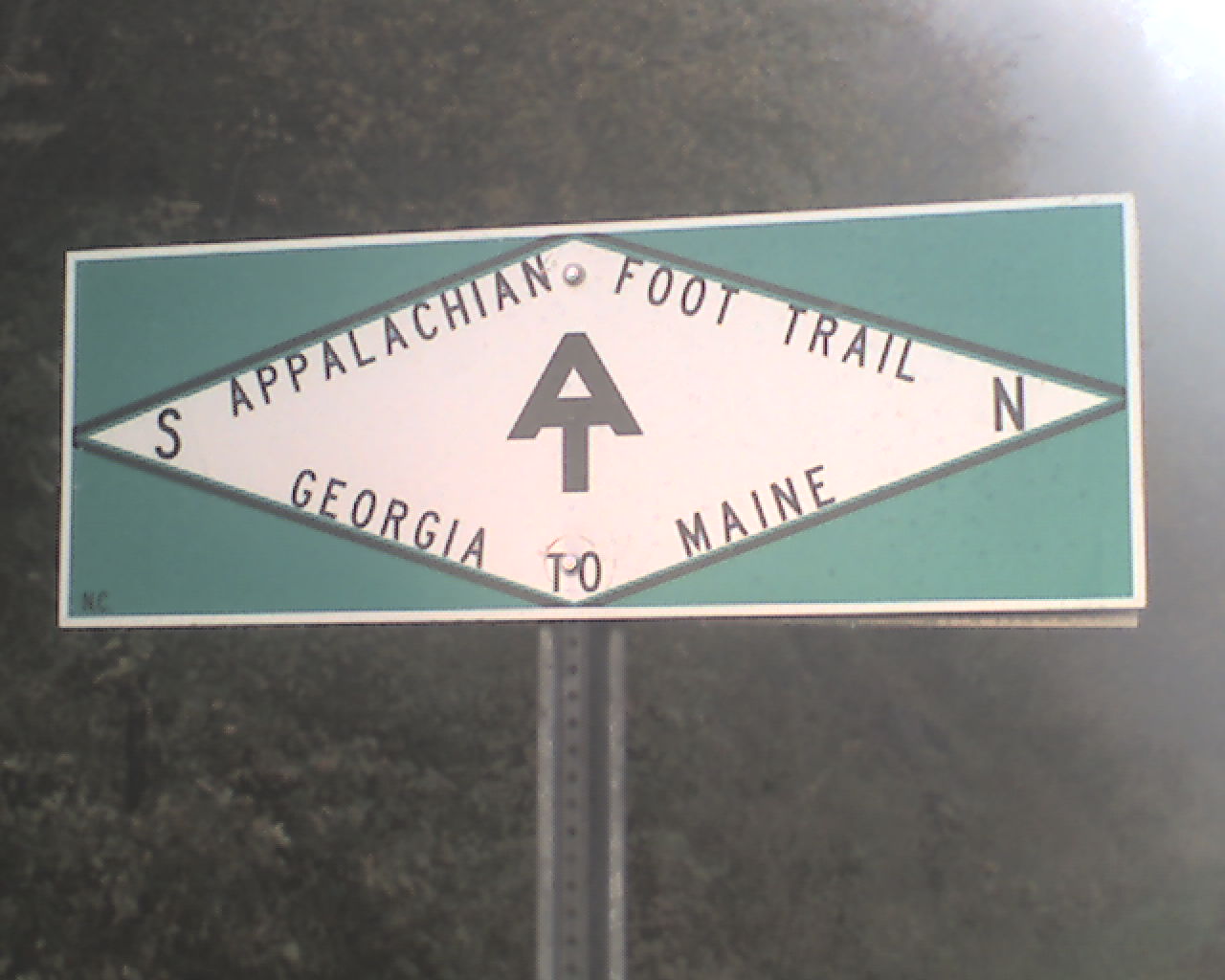 Friday, October 16, 2009


Big Butt Mountain
Location For The Night: Muskrat Creek Shelter, trail mile 2,099.0
Miles Walked Today: 19.30
Day Number: 121

Flaxseed broke camp and packed wet gear as I packed up in the shelter. We both ate breakfast in the shelter and were on the trail at 6:39am.

It was a little foggy early today but the sun came out by 8:00am, and it was sunny and breezy until 2:45pm. Then the fog rolled in again. Tonight it's foggy and cool (45 degrees). Clear weather is predicted for the next several days. It can be clear and still be foggy in these mountains.

At 7:00am we summited Albert Mountain in the dark. The descent down its steep south side is rocky and tricky in the daytime. It was much more so in the dark with headlamps on.

At 7:45am we climbed up and over Big Butt Mountain. A couple of weeks ago we climbed another mountain with the same name. I won't even hazard a guess as to where these names come from or who the guy is that thinks them up.

At 10:12am I passed two wild turkey hens about four feet from the edge of the trail. They meandered slowly away, seemingly unafraid.

At 1:45pm we stopped for lunch at Deep Gap. US Forest Service Road 71 ends here and there is a large parking area. There were several bear hunters there fooling around with their dog collar locator receivers while waiting for dogs to return. It appears to me that bear hunters spend more time gathering up their dogs than they do hunting bear. Every time we've run into them they're trying to find missing dogs.

One hunter told us that bear meat is stringy and tough and has a lot of fat running through it. He said you have to fix it just right in order to eat it. I asked him what they do with the bear hides. He said they use them to train the dogs to catch the scent. I wondered if the hunters needed training too, training in how to find their dogs that is.

At 4:35pm we turned abruptly east off the trail and eased in to Muskrat Creek Shelter. We are joined tonight by David, 50, an avid 14,000' mountain climber and AT section hiker, and Mooney Nine, 61, a retired Air Force officer and section hiker. David is from Atlanta and Mooney Nine is from Tifton, Georgia. Mooney Nine set his one-man tent up on the dirt floor in the shelter eating area.

Today's photo is an AT sign that we see where the trail crosses paved roads in this area.

Today we walked from Big Spring Shelter, trail mile 2,079.7, to Muskrat Creek Shelter, trail mile 2,099.0, a total of 19.3 miles for the day.

God bless you all.
---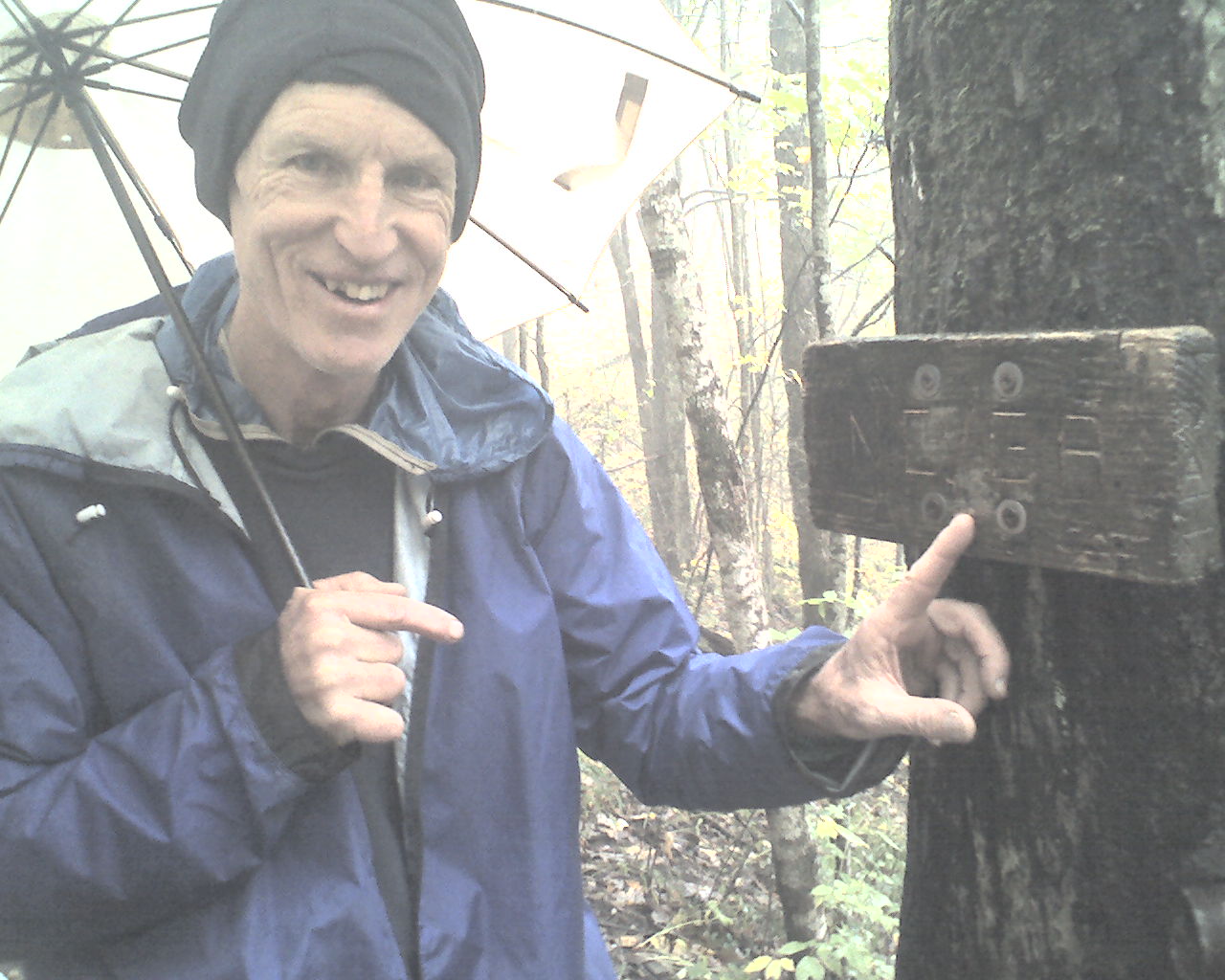 Saturday, October 17, 2009


Hello Georgia
Location For The Night: Hiawassee Inn - Hiawassee, GA
Miles Walked Today: 11.80
Day Number: 122

A mouse ran off with one of Flaxseed's traps attached to its leg last night. It shuffled across the shelter floor, past David's head, and out on to the ground. Justifiably aroused, David attempted to retrieve the trap before the mouse exited the shelter. His efforts were in vain. Flaxseed, dressed in sleeping shorts and barefoot, went after his precious trap. He returned with no trap, but nearly frozen. This morning he said he'd never do that again.

It was 35 degrees last night and the wind was blowing into the shelter. Even in my winter sleeping bag I added a layer of clothes in the middle of the night. This morning, as we were packing at 6:30am, the rain changed to sleet. When we left the shelter at 7:20am it was snowing. Light snow continued until 8:55am when we reached the North Carolina/Georgia border (photo) at Bly Gap. Rain continued until about 1:00pm. The remainder of the day was cloudy and cold. There are freeze warnings out for tomorrow night and the following morning. And that's in the valleys. We climb mountains.

At 10:00am, as the rain continued, we met a group of 25 Georgia Appalachian Trail Club (GATC) volunteers out for a day of trail maintenance. Amazingly, one of them was Walkin' Cowboy (Cowboy), the 67 year old through hiker and North Georgia native that summited Katahdin with Flaxseed in 2007 and that we both hiked with in Maine this year. We were elated and astounded and agreed to meet for supper tonight.

And, we sincerely thanked the volunteers for their dedicated hard work on the trail. Without them there would literally be no trail.

At 1:30pm the Long Green Tunnel (a nickname for the AT) led us to Dick's Creek Gap, US Highway 76. By pre-arrangement, Sarah of the Hiawassee Inn picked us up and shuttled us to McDonalds in Hiawassee, GA. Flaxseed had three double cheeseburgers and a large vanilla milkshake. I had two Big Macs, large fries, three cokes and a large chocolate milkshake.

We checked in at the Hiawassee Inn, showered and rested a while. Flaxseed did some sewing repairs on his shoes. Mandy, the motel manager, did our laundry.

At about 5:00pm Cowboy showed up at our room. We talked trail talk in the room for awhile, then he took us to Ingles supermarket to resupply. We treated him to supper at Daniel's Steak House & Buffet (AYCE).

Today we walked from Muskrat Creek Shelter, trail mile 2,099.0, to Dick's Creek Gap, US Highway 76, trail mile 2,110.8, a total of 11.8 miles for the day.

May the God of all there is bless you all.
---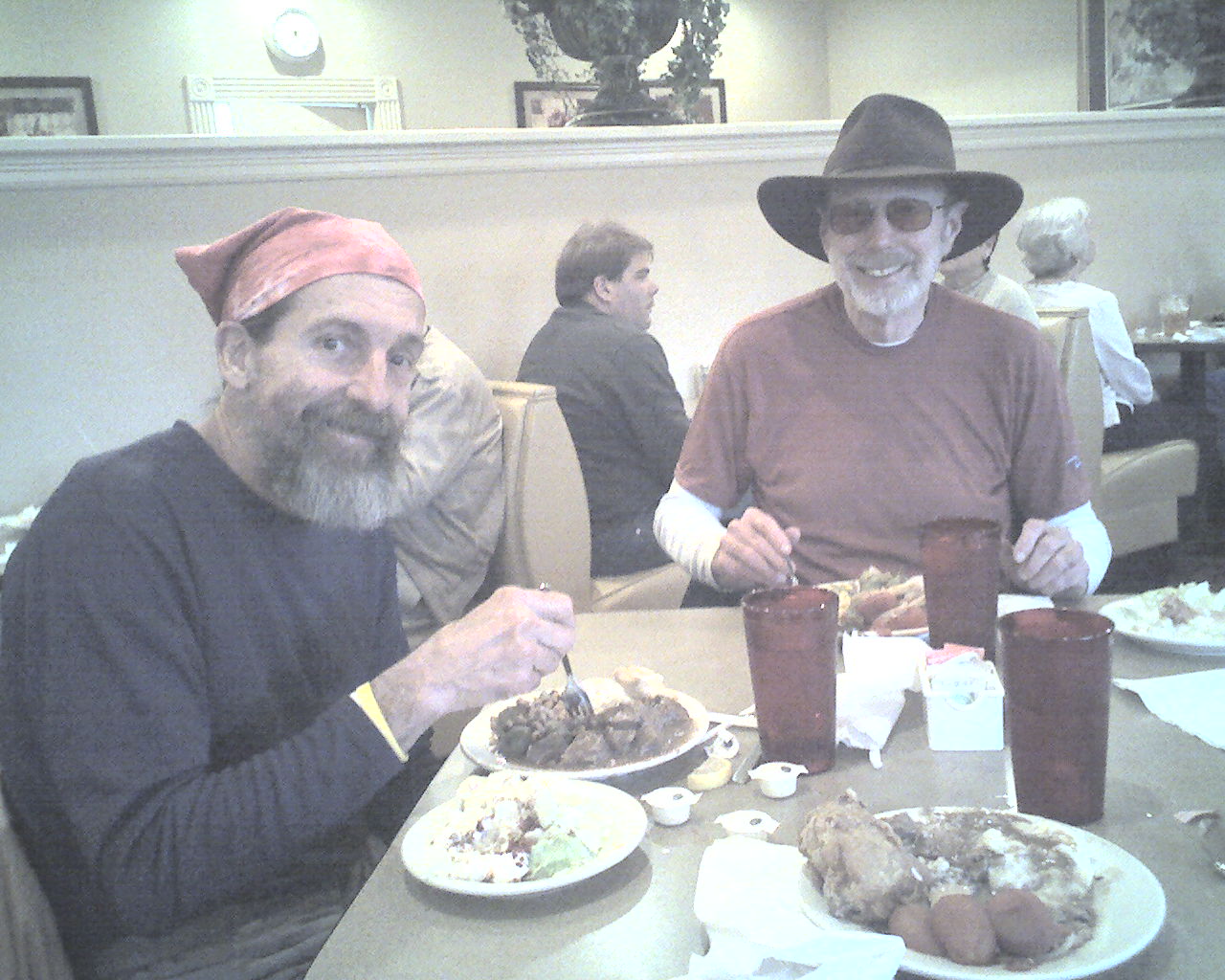 Sunday, October 18, 2009


Cold Wind
Location For The Night: stealth campsite at trail mile 2,130.3
Miles Walked Today: 19.50
Day Number: 123

This morning we ate breakfast in the Hiawassee Motel lobby and Brent drove us back to the trailhead. We were walking at 7:36am.

It was cold and windy all day but the sun was shining and the sky was clear. Freeze warnings are posted for tonight.

At 9:45am we met 5 Scouts and 6 adults from Troop 1717 in Roswell, Georgia. They were out for a weekend training hike in preparation for a Philmont expedition next summer.

We summited Tray Mountain at 10:00am. Light snow from last night lingered on the ground and the trees.

At 5:15pm we reached Blue Mountain Shelter. It is located in an exposed area on top of the mountain. We chose to hike on and try to find a more protected campsite. At 5:50pm we spotted a stealth site in a low spot that seemed to offer more protection from the cold wind. But, we are on the west side of the mountain and do not have complete protection. It's going to drop down into the 20s tonight. It's cold up here.

Today's photo of Flaxseed and Cowboy was taken last night at Daniel's AYCE restaurant in Hiawassee, GA.

Today we walked from Dick's Creek Gap, trail mile 2,110.8, to a stealth campsite at trail mile 2,130.3, a total of 19.5 miles for the day.

God bless you all.
---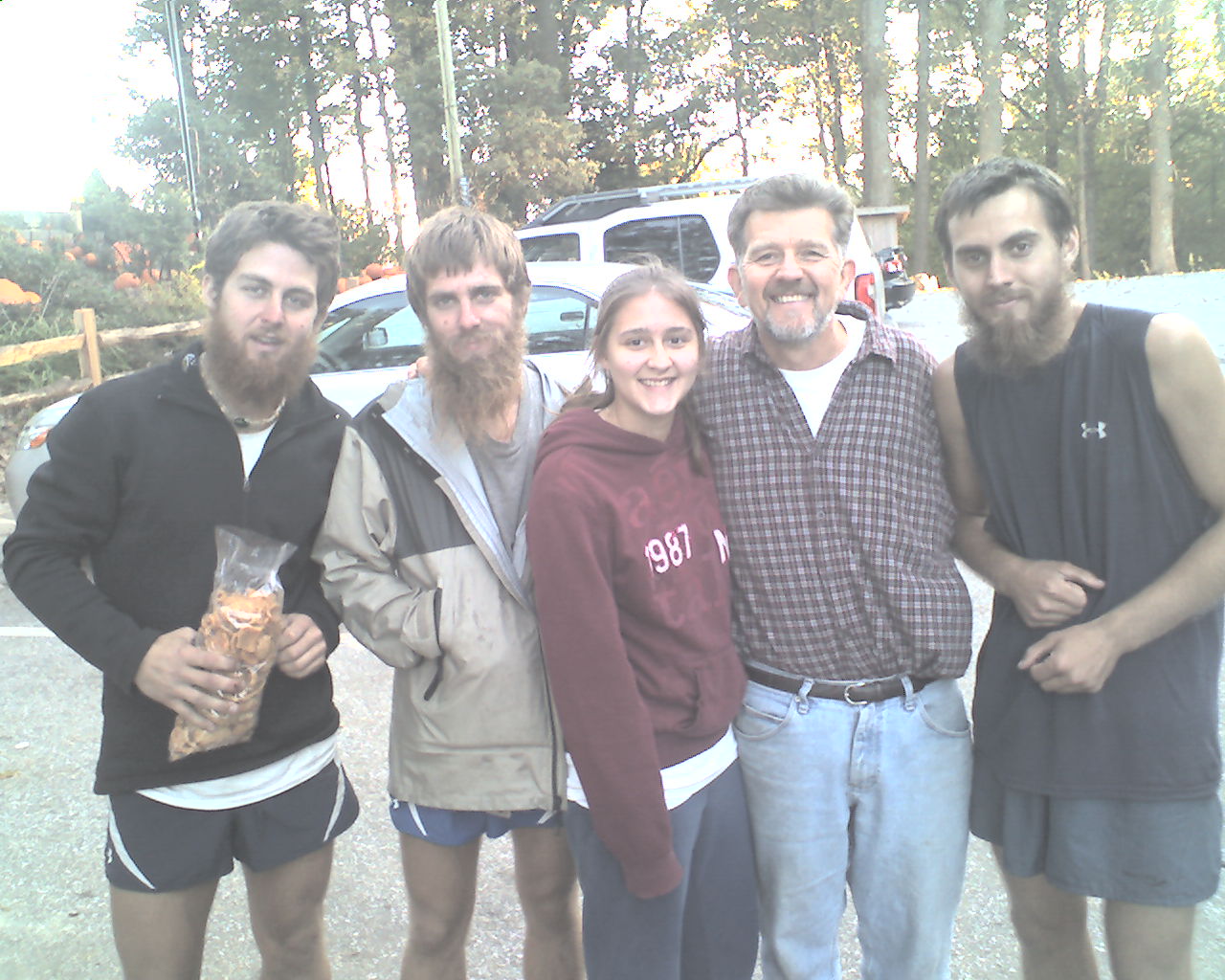 Monday, October 19, 2009


Siblings Return
Location For The Night: Mountain Crossings Outfitter & Hostel
Miles Walked Today: 17.30
Day Number: 124

The temperature dropped to about 25 degrees last night, but the wind calmed down at about 3:00am. Both of us were warm and comfortable in our tents and winter bags. This morning we had a pleasant experience. We actually packed dry tents. We were on the trail at 7:00am.

The weather today was wonderful. Cold and sunny in the morning and cool and sunny in the afternoon. There is less fall color showing here than we saw in the upper elevations of the Smokys.

We met at least 25 section and day hikers today. The beautiful day brought them out in droves.

At 3:00pm we met a couple with backpacks headed north. They said they were looking for three young, bearded, southbound through hikers they had heard about. We told them we were through hikers but, obviously, not so young and I shave on the trail. After a few questions we determined they were looking for The Three Sibs (formerly The Four Sibs), the Pennsylvania brothers, less a sister, that we met just north of Duncannon, Pennsylvania, and passed in Virginia. They were scheduled to be at Mountain Crossings / Neel's Gap at 5:00pm. That put us about an hour ahead of them. We planned to spend the night at Neel's Gap, so we left excited about seeing them again.

At 3:50pm we reached Neel's Gap, US Highway 19, the home of Mountain Crossings Outfitter & Hostel. This area is also known as Walasi Yi, a Cherokee word for Mountain Crossings.

We found bunks in the hostel, dropped our packs and climbed the steps up to the store. Jen and Felicity had hot chili warming on a wood stove. We each ate three bowls and topped it off with pints of ice cream.

We logged in on Mountain Crossings southbound trail register, the nearest thing to an official southbound through hiker head count available. We were numbers 5 & 6 in 2009. Only four southbound through hikers, including the speed hiker, Thunderbird, had come through ahead of us. Flaxseed and I are pleased with our effort. We've had fun, but worked very hard in some extremely bad weather to achieve this.

At about 5:15pm I saw one of The Three Sibs in front of the store. We immediately got together with the three of them, their dad, Dave, and sister, Becky, and exchanged trail news. Their sister, Missy (Mountain Killer), that was hiking with them earlier, dropped out in the Shenandoahs with an injury, and the three boys took four days off to attend a funeral. Tomorrow they plan to hike the entire 30.7 miles to Springer Mountain, the AT's southern terminus, in one day. They'll do it too. These boys are hikers.

Today's photo is The Three Sibs with their dad, Dave, and sister, Becky. Becky is one of eight other "siblings" in a family blessed with 12 children. They are Christians who "love the Lord". Dave told me so.

We showered and ate supper in the hostel. Pirate, an AT legend and caretaker of this hostel for 19 years, prepared sauerkraut, new potatoes and pork chops. Delicious. I had homemade pound cake for dessert (and will tomorrow for breakfast).

Now, as usual, Flaxseed has been asleep for and hour and a half while I squint through my bifocals trying to hit the right letters on this tiny touch screen with my stylus. But, God willing, there's only two days and one night left.

Today we walked from a stealth campsite at trail mile 2,130.3, to Neel's Gap, US Highway 19, trail mile 2,147.6, a total of 17.3 miles for the day.

May God bless all of you, each and every one.
---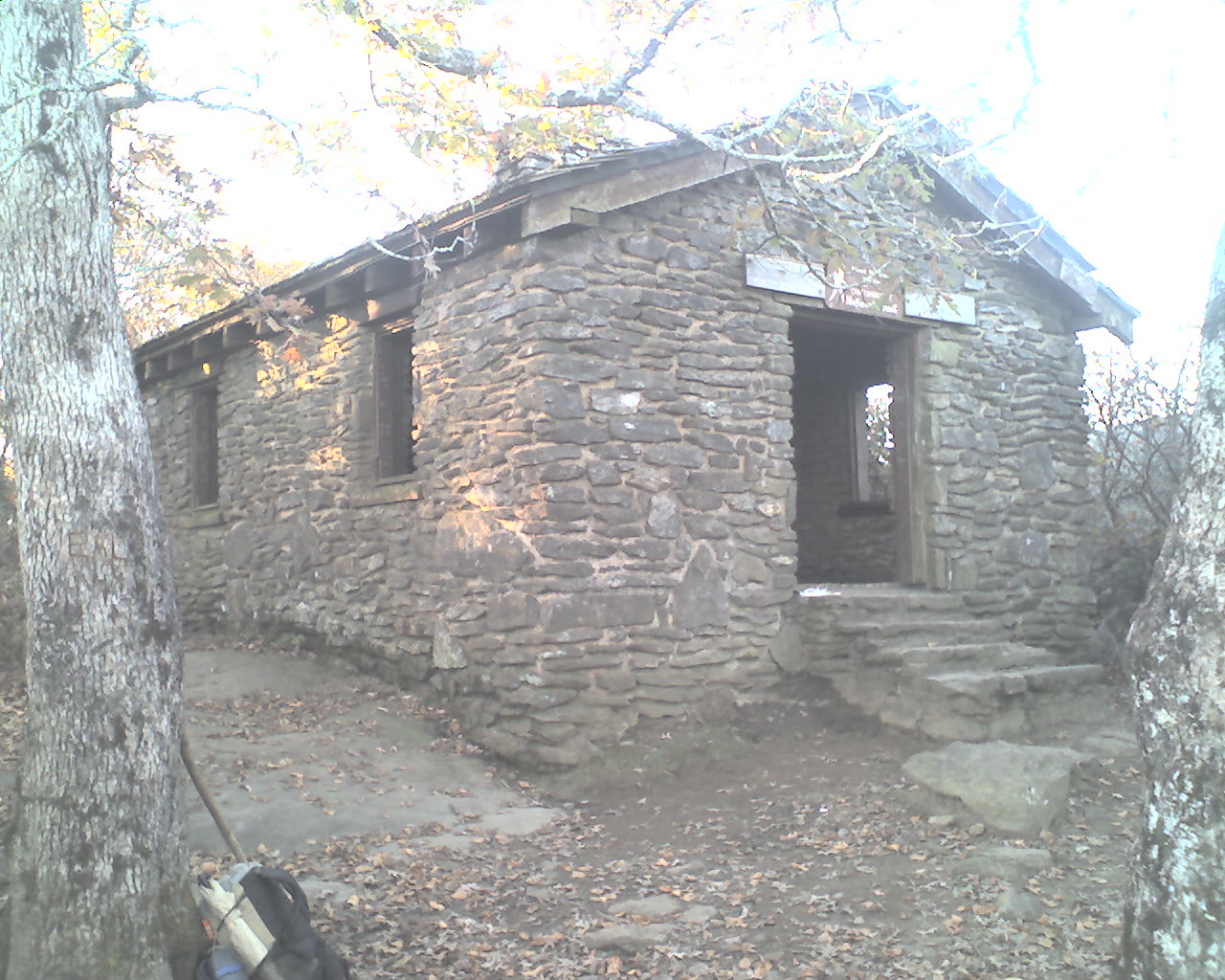 Tuesday, October 20, 2009


One Day Left
Location For The Night: stealth campsite on top of Sassafras Mountain, trail mile 2,167.1
Miles Walked Today: 19.50
Day Number: 125

Pirate had coffee on and breakfast ready at 5:00am. It was not a gourmet fare but it filled us up. We had our choice of pop-tarts, toast and jam, instant oatmeal and bananas. We packed our gear, bid Pirate farewell, and were walking at 7:00am.

It was another beautiful sunny day; cool in the morning, warm in the afternoon, and dry.

At 7:47am as we were climbing the north side of Blood Mountain we were treated to a glorious sunrise. The sun rose directly over the highest peak to our east.

At 8:05am The Three Sibs passed us on their way to Springer Mountain. They were carrying just enough food and water for the day.

At 8:15am we summited Blood Mountain. There is a stone shelter there that was built in the 1930s (photo). Two hikers camped there were enjoying the sunrise and views from the mountain top just above the shelter.

We saw many section and day hikers again today. This pretty fall weather draws them out.

A black and tan bear hound or some kind of hound followed us all afternoon. It's in camp tonight, curled up outside my tent. If it's still around in the morning we'll try to get the phone number off the collar and call the owner.

We stopped walking today at 5:20pm. Flaxseed eyeballed a good stealth site in a grove of small trees on top of Sassafras Mountain.

Today, our last full day walking in the woods, we walked from Mountain Crossings, Neel's Gap, trail mile 2,147.6, to a stealth campsite on top of Sassafras Mountain, trail mile 2,167.1, a total of 19.5 miles for the day. We have 11.2 miles left and we're done.

May God bless all of you.
---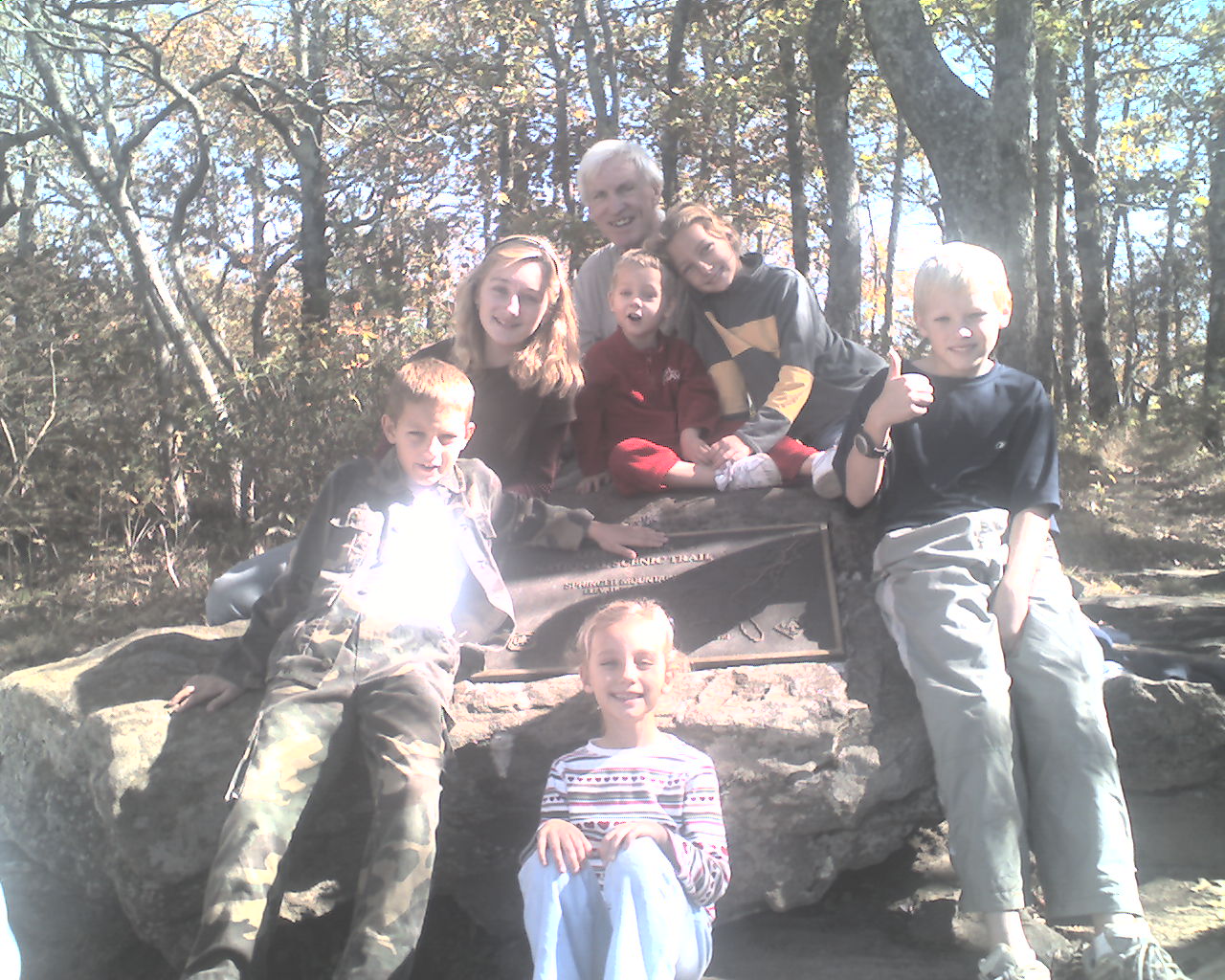 Wednesday, October 21, 2009


The End
Location For The Night: Home, Paducah, KY
Miles Walked Today: 11.20
Day Number: 126

Flaxseed chose a perfect final campsite. Situated on top of Sassafrass Mountain it was level, virtually rock free and dry. There were plenty of multi-colored fall leaves available to provide supplemental cushion for my 1/4" thick foam sleeping pad. And, there was a good log seat for supper.

A light breeze blew through the pleasant 45 degree night, and the stars shown brightly.
We arose at 5:00am, ate in our tents, packed "dry" gear and began putting one foot in front of the other at 6:04am.

Our hound dog companion of yesterday spent the night with us. There was no phone number on his collar. This morning he followed us on the trail, often roaming the woods to find a scent (probably a cold one) and baying as he tracked. It was a welcome distraction. Not that we needed one with only 11.2 miles to go. After about about 6 miles he was gone, hopefully finding his way home.

Descending to Horse Gap we were surrounded by damp, excessively cold katabatic air (kat•a•bat•ic - adj. Of or relating to a cold flow of air traveling downward: a katabatic wind.) The same was true as we descended to Three Forks. This confirmed Flaxseed's astute, woods-wise mountain top campsite choice.

I leave today's narrative to briefly honor my good friend, Flaxseed, AKA, Jim Eitzmann. I say "briefly" only to limit space here. I could write a book about this intuitively woods-wise rascal. Many adjectives do him justice. Among them are: caring, giving, outgoing (gregarious), generous, driven, talkative, opinionated and short-fused. But one trumps them all. Jim Eitzmann is tough as case hardened steel. He will not quit. His mind, body and spirit do not know the meaning of the word. I'm not that tough. Without him I firmly believe I would have quit. For me, this is his legacy. I will always be grateful for his friendship and companionship. Thanks Flax. It was a blast.

The morning's goal was an 11:00am arrival at Big Stamp Gap parking lot where USFS Road 42 runs within .9 miles of the Springer Mountain summit. After a two hour walk, including backtracking a couple of times to confirm white blazes (even on the last day we needed assurance that we were on the AT), we were slightly behind schedule. Flaxseed, who led the way all the way from Maine, kicked it up a notch to a 3-MPH pace. Once back on schedule we eased to our normal easy stride arriving at the parking lot at 10:45am. The weather was sunny and warm, probably mid-60s.

At 11:15am my oldest son, Gil, arrived in his van with 6 of my 15 grandchildren; Makala, Elijah, Wil, Emilia, Summer and Henry Arterburn, about three more than I expected. We hugged, ate ham and cheese sandwiches and Makala-made chocolate chip cookies.

Then it was off to Springer's summit. Elijah carried my pack and I carried Henry on my shoulders. We summited at 12:20pm, took photos, talked to some other hikers and tourists, enjoyed the beautiful view and weather, and descended.

Summiting Springer was not a big emotional event for either Flaxseed or me. Springer Mountain (3,730') is neither high nor steep. A gradual climb simply leads one to a scenic spot with two bronze plaques fastened to bed rock. But, it was over. We did it; all 2,178.3 miles of it. And, we did it in 126 days with full packs (no slack packing) and no blue-blazing (hiking easier, shorter routes). We acknowledge that we took full advantage of motels, hostels and restaurants. For this we are unapologetic. After all, we were on vacation.

Back at the parking lot we enjoyed more sandwiches, chips, cookies and cokes. Then we loaded up and wound down the forest service road to the highway. In about an hour we were on I-75 heading north and looking for the nearest Dairy Queen exit. After about 15 miles it was ice cream for all. Flax and I added double cheeseburgers to our orders. We still need the calories.

We dropped Flax off at the Chattanooga airport, made sure he had his boarding pass, and returned to the Interstate. Shortly, we were on I-24 on our way home.

At 5:15:pm we met my youngest son, Luke, at a Murfreesboro, TN, Cracker Barrel for supper. Luke is a student at Middle Tennessee State University. All the grandchildren love Uncle Luke.

Our next stop was my home in Paducah where the Cunninghams; Adam, Tyler, Alissa, and Caitlyn had my yard decorated with welcome home signs and balloons. Thanks guys.

Makala and Summer had cleaned my house. Everything seemed to be in order. I showered and retired.

Today, 10-21-09, we walked from a stealth campsite on top of Sassafrass Mountain, trail mile 2,167.1, to the summit of Springer Mountain, the AT's southern terminus, trail mile 2,178.3, a total of 11.2 miles for the day.

God bless you all.
---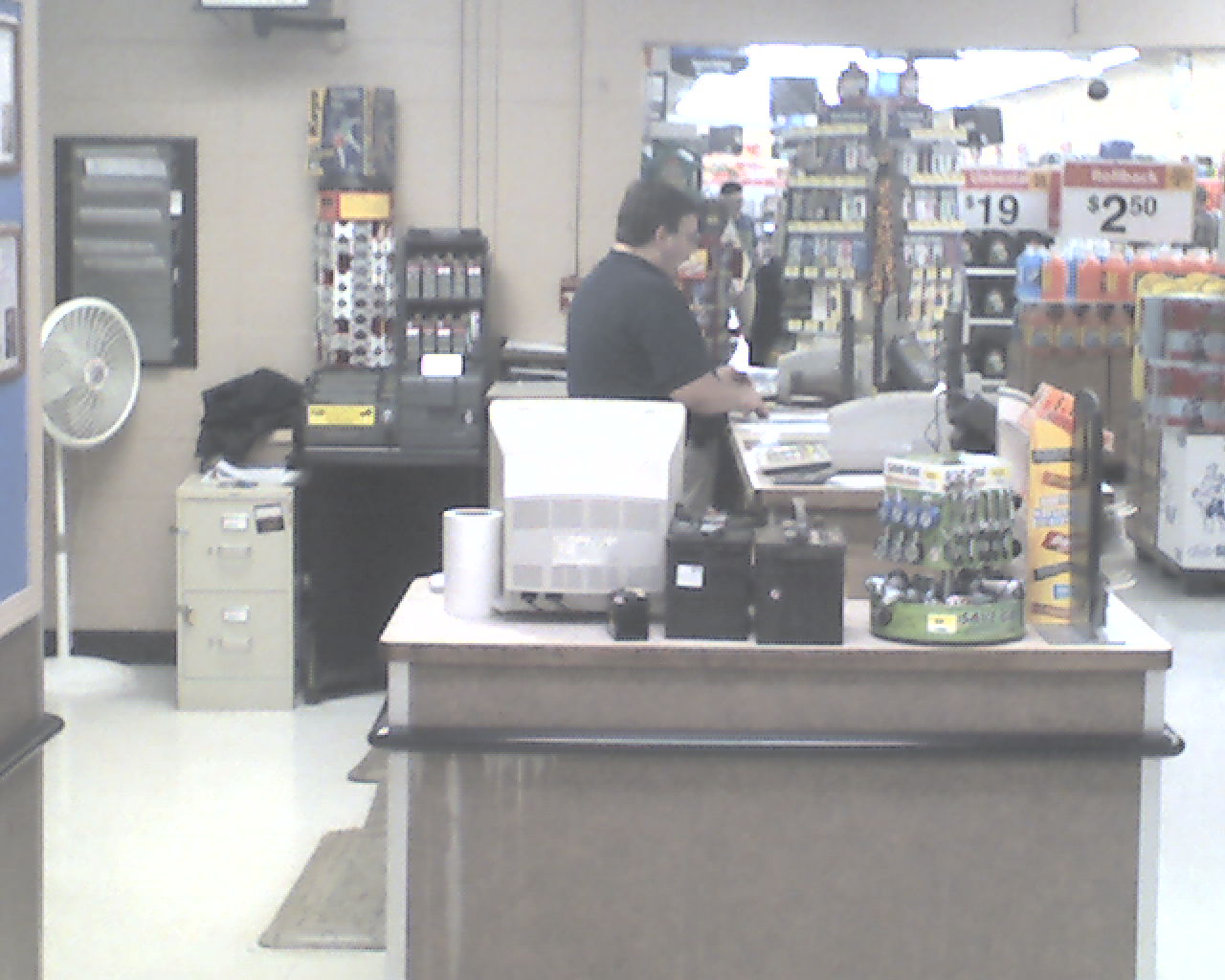 Thursday, October 22, 2009


The Day After
Location For The Night: Home, Paducah, KY
Miles Walked Today: 0.00
Day Number: 127

This morning, Thursday, 10-22-09, I resumed old habits. I sorted and stored hiking gear, did a load of laundry, washed my filthy backpack and drove to McDonald's for an Egg McMuffin Meal and a senior coffee. I'm typing this report while waiting for my oil to be changed at the Hinkleville Road Wal-Mart in Paducah, a fitting re-introduction to the real world. Today's photo is the Tire & Lube Express check-out counter. Everything seems normal and right.

Thanks to all of you that prayed and offered encouragement. It meant more than you could know. Thanks also to Gil and Glen for taking care of my home, personal and business affairs, and trail logistics. Thanks to all the many, many generous, helpful folks that we met along the trail. And, lastly I thank the Lord for providing me with the opportunity, resources and good health to pursue and accomplish "the desire of my heart."

I will finish with this simple testimony. As many of you know my 2007 AT through hike was curtailed after 1,260 miles by a tick bite that resulted in a severe case of Lyme disease. This year many hikers that we met or heard about contracted Lyme disease (maybe more than in 2007). First hand reports of an abundance of deer ticks were rampant. But here's the truth. Neither Flaxseed nor I saw a single deer tick or dog tick; not one. I'm not talking about a seeing an "attached tick." I'm telling you that we saw no ticks anywhere; not on the ground, not on a limb, not on a leaf, not on a log, not on our clothing, not on our skin, nor in our hair - nowhere. Now, if you have an explanation other than God, in His abundant grace and mercy, providing an old sinner who loves Him "the desire of his heart" please email, or write, or call. I'd like to know what it is.

Epilogue: It would be premature to post an epilogue now. Post-AT adjustment, including time to reflect, will take time. If more comments are needed I will add them later.

God bless you all. And God bless my good friend, Flaxseed.
---