Click here to view Brad's entire gear list >>
Over the past few years, Brad has maticulously eliminated EACH AND EVERY OUNCE from his gear. He learned from the legendary Ray Jardine many important light-weight backpacking skills required to hike long distances. He even attended a RayWay sewing class in Phoenix, AZ to make some of his own gear.
The photos below show most of his gear, of which he only carries a small portion during his hike. His pack weight is below 19 lbs total, including food, water and supplies.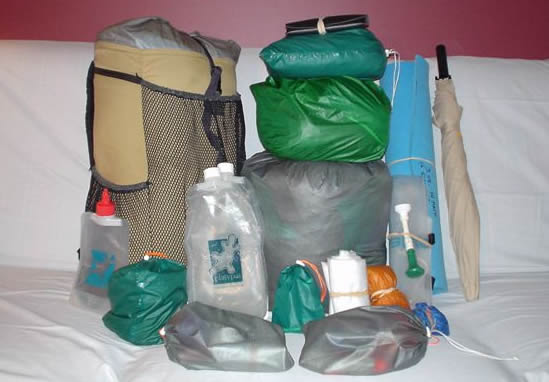 Back row next to back of couch, left to right

Backpack Quilt in stow sack in large gray bag
Clothing in stow sack in green bag on top of quilt
Tarp in green stow sack on top of clothing bag
Hard glasses case on top of tarp
Platypus 4 liter bag with shower attachment
3/8" Foam sleeping pad (blue)
Umbrella

Middle row, left to right

Cook Pot, stove and accessories in green stow bag
2 ea. 1 liter Platypus bottles
Camera in stow bag
3-mil polyethylene ground sheet (clear)
Large food bag (orange)
Small daily food bag (blue)

Front row, left to right

Medical / Hygiene ditty bag
Misc. ditty bag
---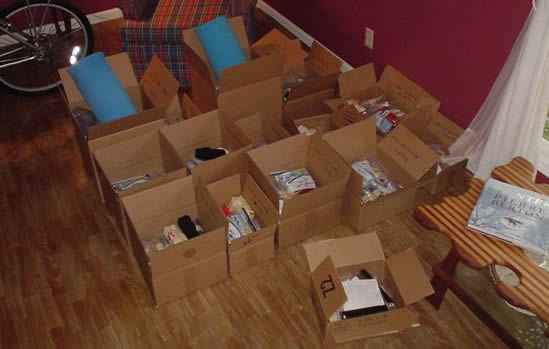 Brad's Drop Boxes
Brad's son, Glen, mails each drop box to a pre-scheduled location approximately 2 weeks before Brad's arrival time.
---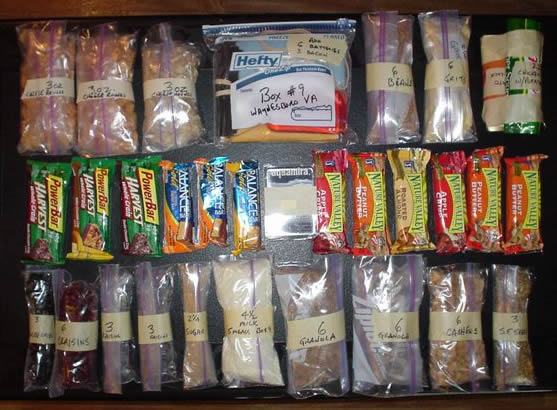 3 Days Food
This is a typical display of 3 days of food for Brad. Looks delicious!